A weekend in Wine Country is never enough time.
Although the Wine Country is a great getaway and incredibly beautiful; 2 days in California Wine Country is just not enough. Especially if you are half a continent away from California in Dallas, Texas and you spend much of your valuable time in an airport, on an airplane, or trying to get a rental car!
My beautiful wife Margie was going to be in Oakland and Sacramento on business back in March, so I decided that would be the PERFECT excuse to take a day off and spend the weekend together in my personal  Mecca; Napa and Sonoma! So I set up a few appointments for winery visits on the first day day and left the last day wide open to do whatever came to mind.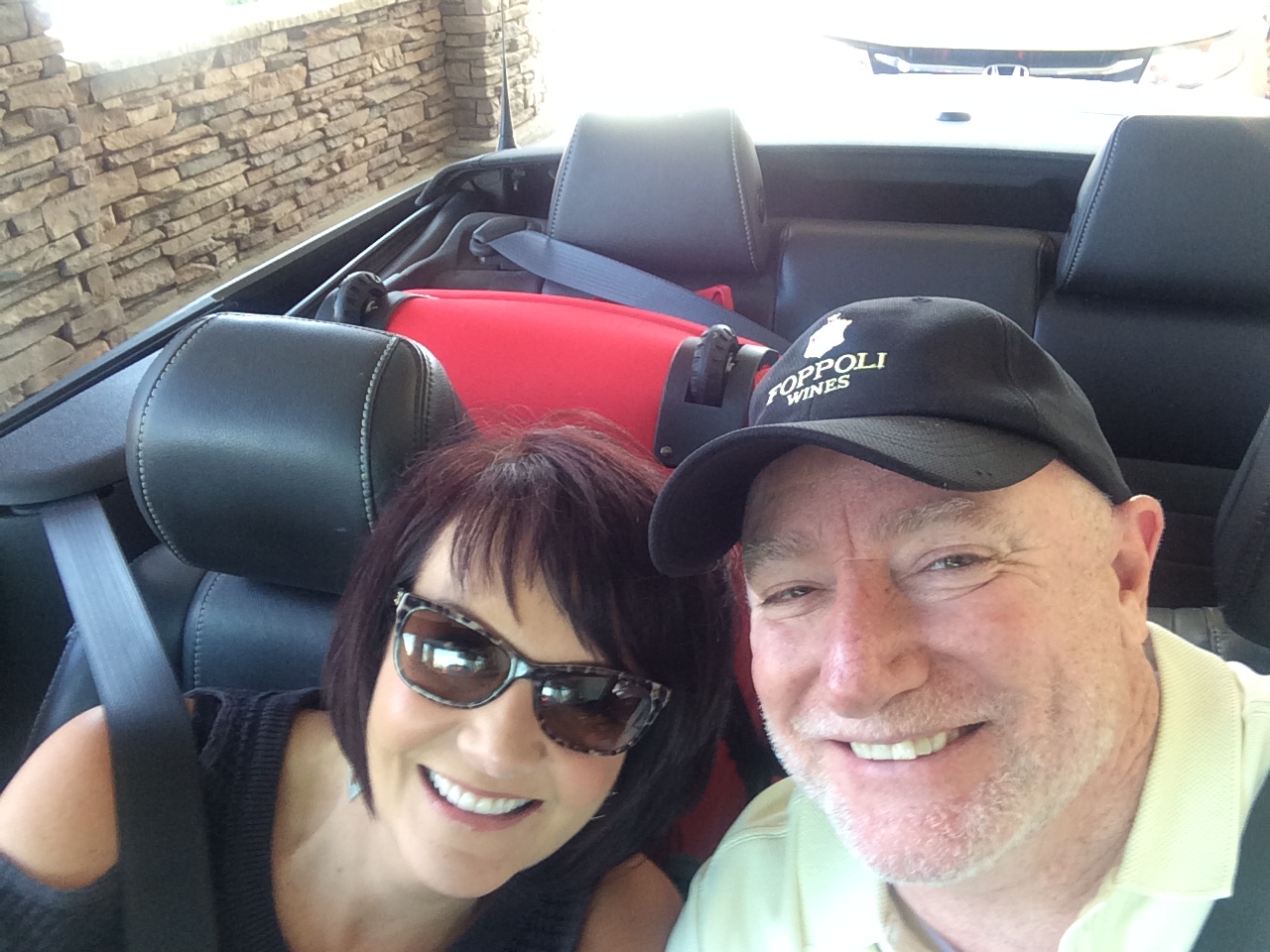 You can imagine I have a multitude of  connections in the wine industry, and get offers to visit and write about my experiences on a regular basis. So I could have scheduled 4-5 winery visits per day and had every minute of our two days booked.But I really needed a nice relaxing and romantic weekend with my beautiful wife more than I needed to visit new wineries.
Margie is a Director of a large hair care products distributor, and lots of travel is just part of her job description. And the beginning of a New Year always brings on even more travel (to get the New Year started), so she has been away from home more than usual. Spending really quality time with each other was very high on our list.
SO…I only scheduled TWO (yes you read right, two) winery visits for the trip!
I flew into Oakland on Thursday, landing about Noon and rented a convertible Mustang. I then drove "topless" to Sacramento to pick Margie up at her hotel. She had just finished meeting with her clients in the early afternoon, and they were begging her to go to happy hour to celebrate a successful meeting. She politely said no, offering that I was picking her up and we were going to Wine Country for a fun weekend!
My wife is absolutely my best friend in the world, and we have an incredible marriage. We have so much fun together, sometimes doing absolutly nothing but making the best of our time making each other laugh.
I am a lucky man indeed!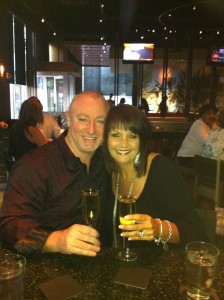 The first night we decided to head over to Healdsburg for dinner at one of our favorite restaurants in Sonoma Valley;  BarnDiva. Located on Center Street in Healdsburg, it is an eclectic blend of different modern and old barn decor, with an ever changing menu. The bar scene is terrific and hip at night, and the Patio and area out back is calm, artistic, and relaxing during the day. The food is always creative, delicious, and ever changing according to the season. If you go you have to try the goat cheese croquettes with Wildflower Honey and Lavender is is incredible!!!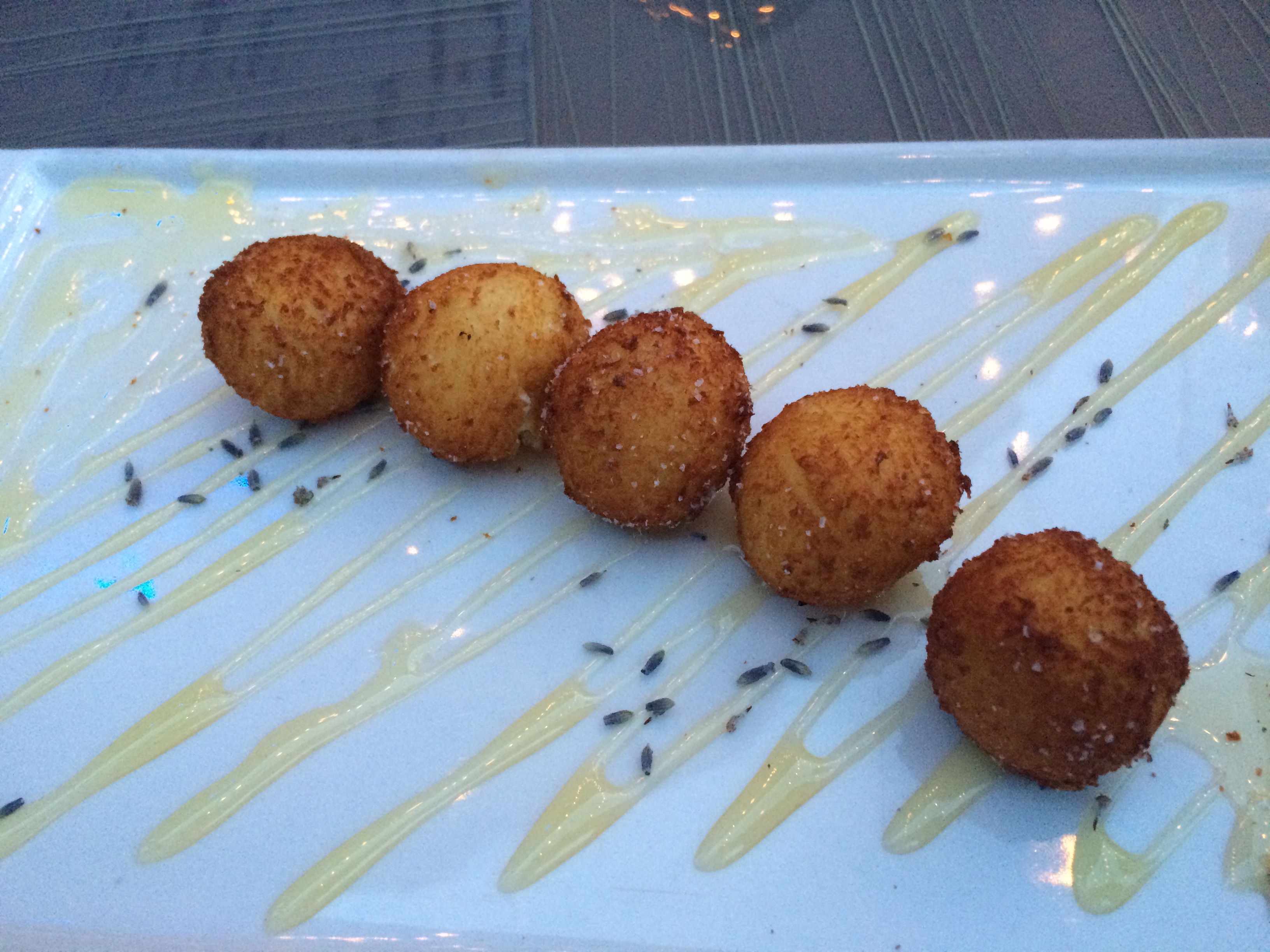 We enjoyed a perfect 2009 Simmonet-Febvre Vaillons 1ér Cru Chablis with our dinner that was outstanding.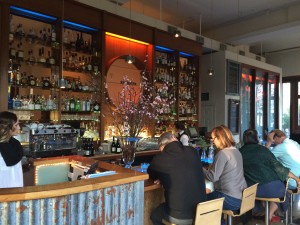 The next morning I had a 9:30 appointment with Jeff Mangahas, Winemaker at the legendary Williams Selyem Winery in Russian River, Sonoma Valley. Jeff was gracious and accommodating with his time. You can read more and the actual interview with Jeff in my previous post in March. It is times like these that I dearly love what I do, as I feel very humbled to have had this opportunity to interview and spend time just visiting and talking wine with Jeff. We loved the behind the scenes stories as well that can only be told by the winemaker!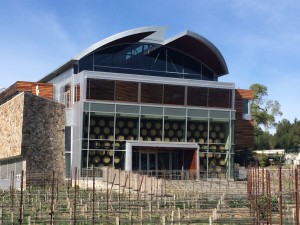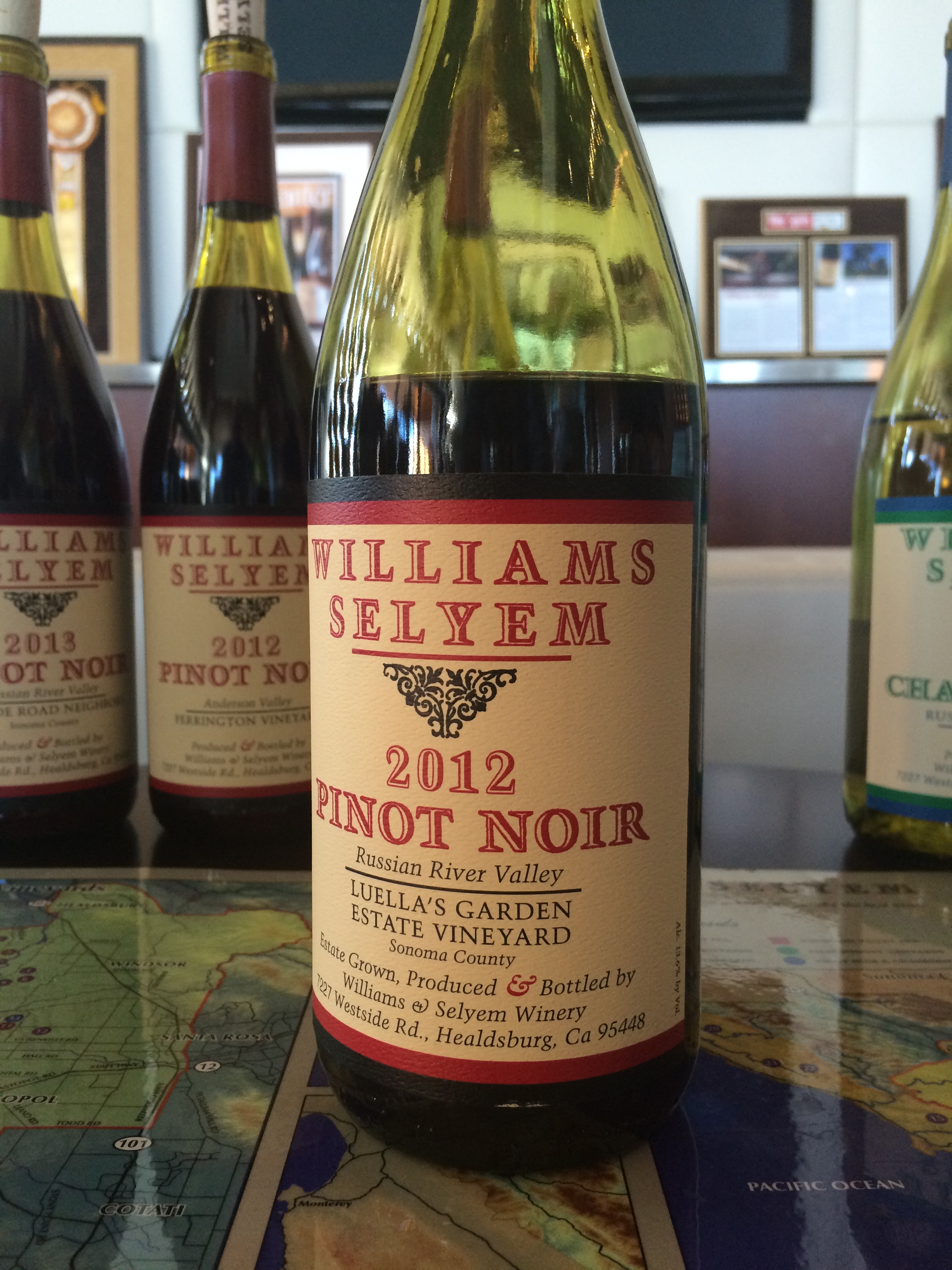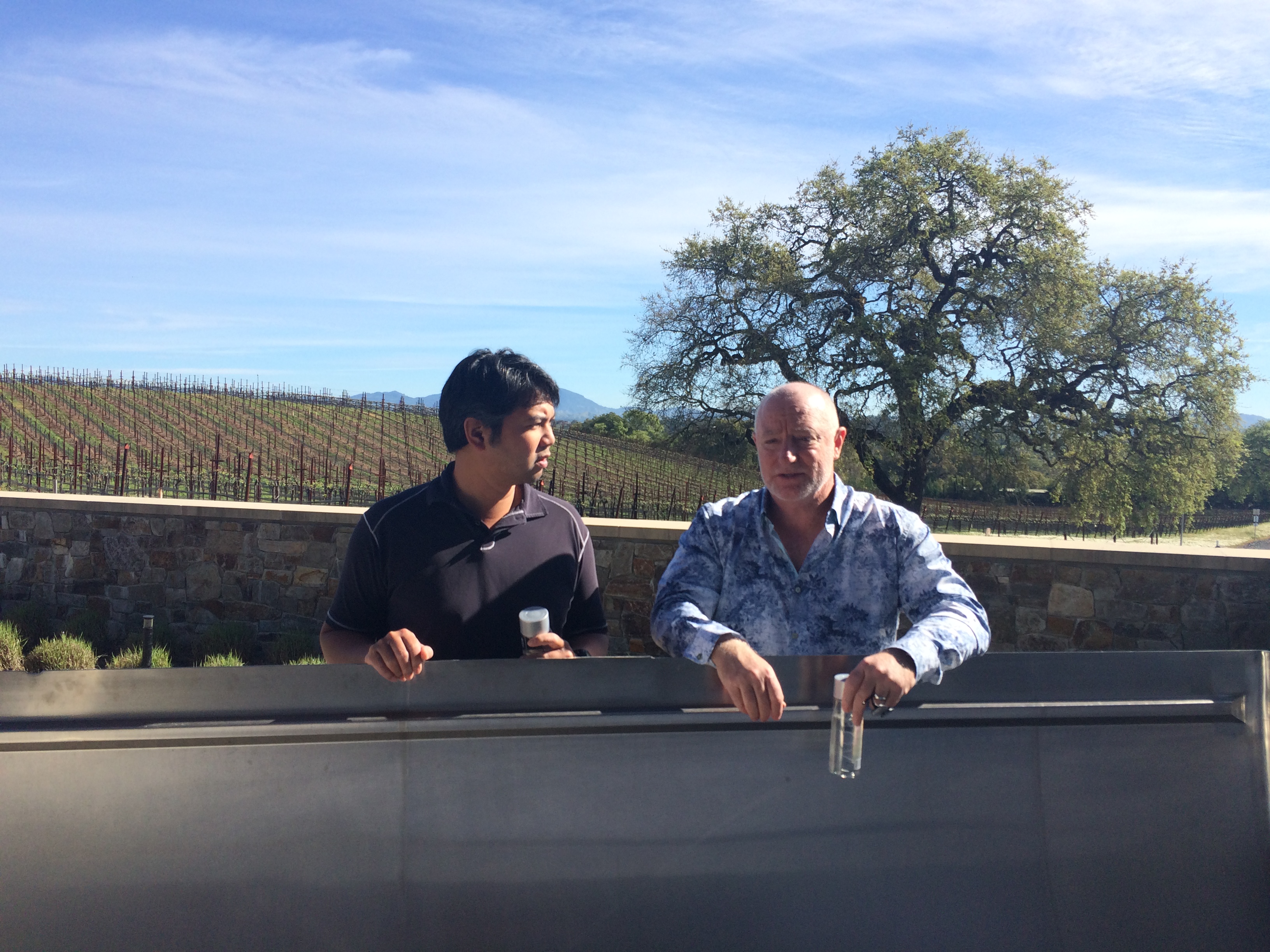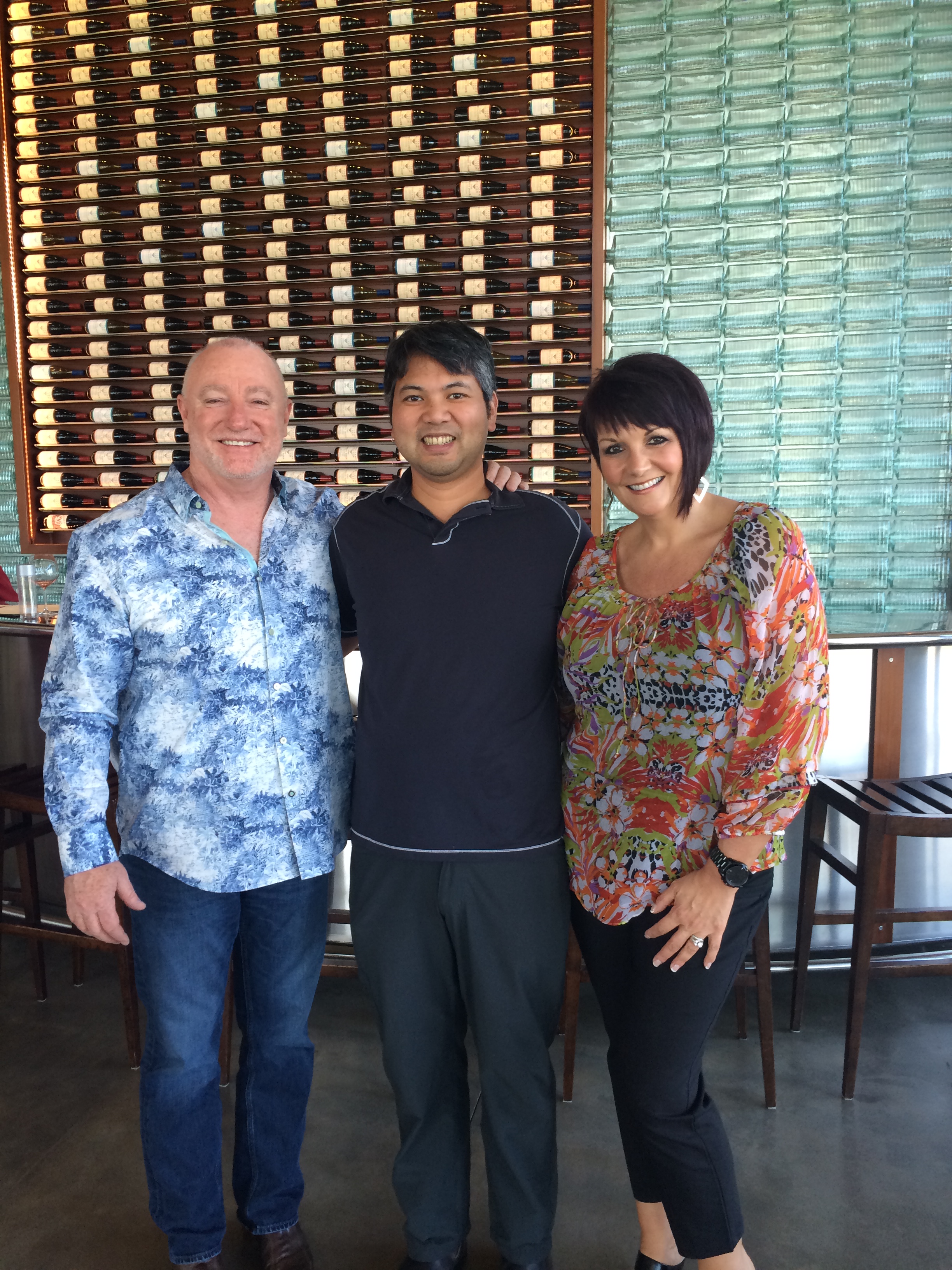 Our next appointment wasn't until 2:30 but it was across the mountain range in St Helena, Napa Valley. For those of you that have driven from Santa Rosa to Napa Valley know there is a mountain range between the two valleys. So as the crow flies it isn't that far. But to drive you have 2 choices;
1. Go south on Hwy 101 and go around Southern Sonoma down and come up along the highway 121 to Scenic Hwy 29 where all the wineries are located just North of the City of Napa (BORING).
2. From Santa Rosa in Sonoma Valley head east along Calistoga Road, across the mountains to Petrified Forest Road to Calistoga. This is the scenic route! If you can ALWAYS take this route because it is so beautiful and so "Northern California".
Calistoga, CA is a beautiful place to stay, taste wine, have lunch or dinner, shop, and just spend time! We had about 2 hours to kill before our next appointment at Fantesca, so we stopped and had lunch outside at Calistoga Kitchen on Cedar St. Very quaint and full of character. Great food, and we were so impressed with the owner and Chef Rick Wankel. Margie and I split a terrific BLT with duck egg and it was incredible! The bacon was localy sourced thick cut, smoked to perfection, and very meaty! We split a County Line Mixed Green Salad, and enjoyed a bottle of 2012 Cakebread Cellars Napa Chardonnay (that matched perfectly) and we were in heaven! The owner Rick explained his food is ingredients driven, featuring local growers, purveyors, and wines. If you are in the area I highly suggest a visit and tell them the Terry Hill the Texas Wineaux sent you!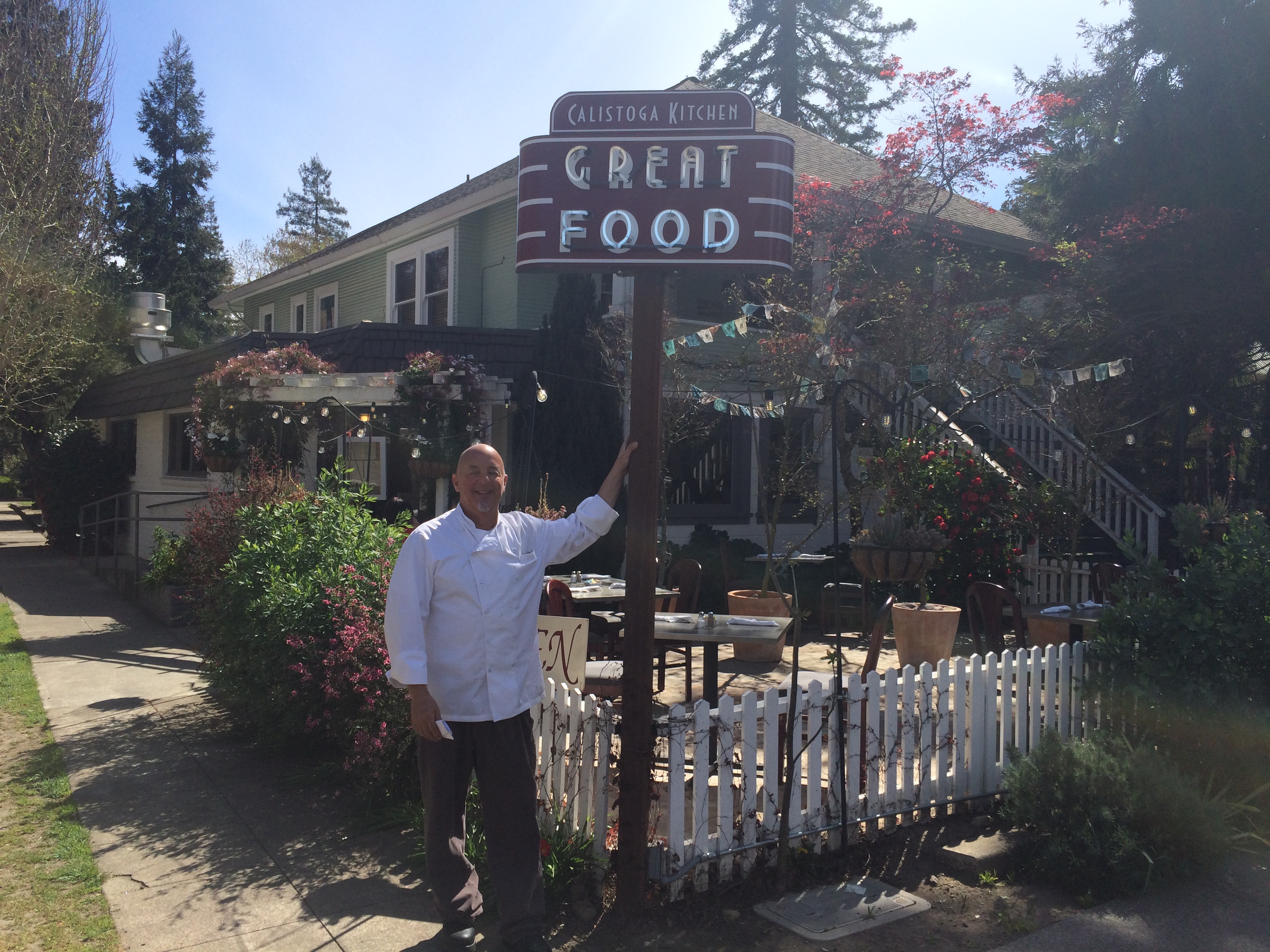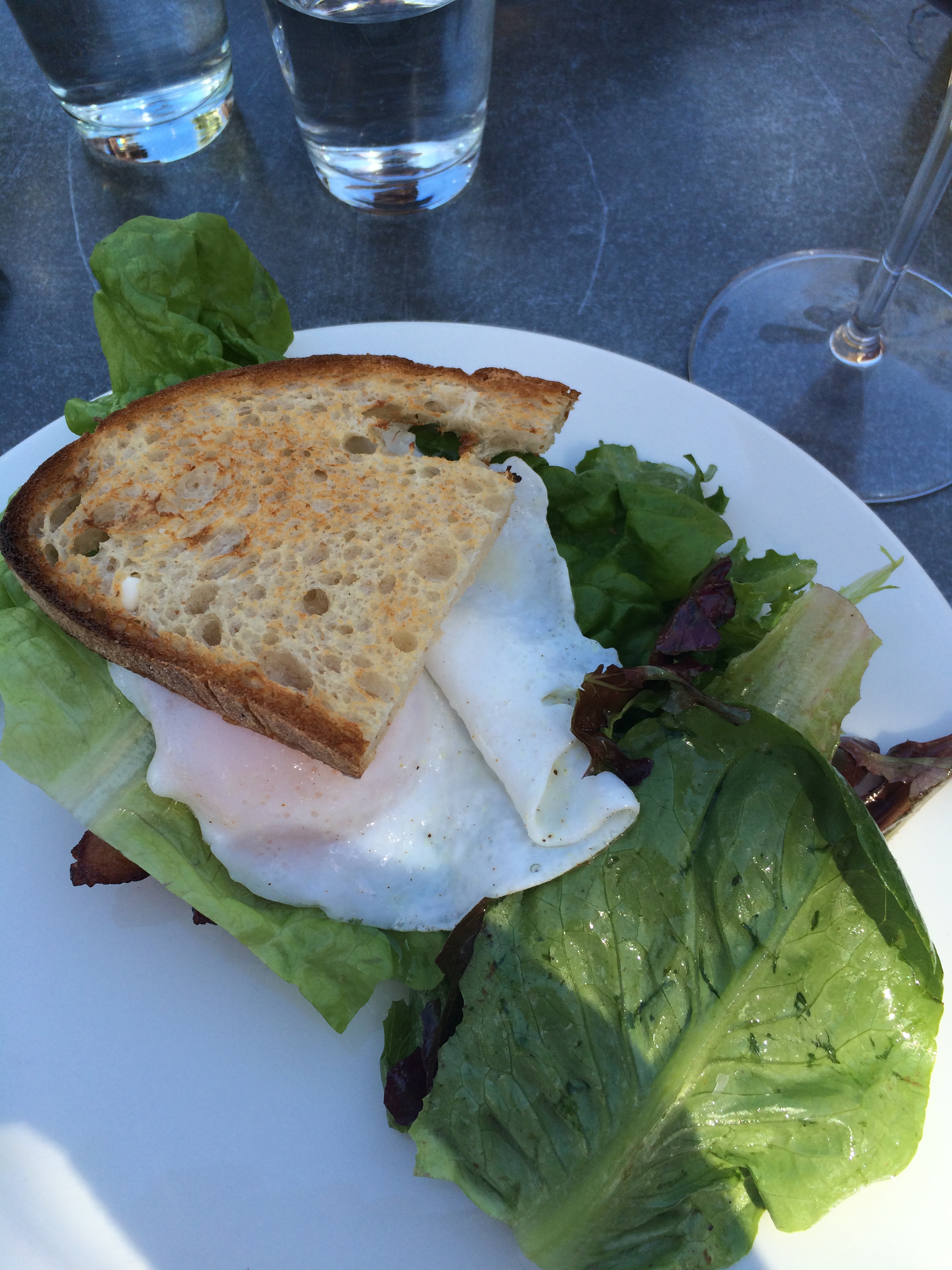 When I took my Sommelier class at Texas Sommelier Conference (TEXSOM) many years ago, Master Sommelier DLynn Proctor assisted in our instructions and blind tastings, and I have kept contact with him over the years. You may know DLynn from the movie "SOMM". Dlynn had suggested a few wineries to vist that were "unknown gems"  in Napa. I chose Fantesca Winery from his suggestion and it was terrific. Fantesca was an extremely interesting story.
Susan and Duane Hoff  were working for Best Buy, and decided they wanted to be in the wine business. So they bought 53 acres with 10 planted to vines in Napa Valley. The property was originally part of Caroline Bale's dowry when she married Charles Krug, and the vineyards dated back to the 1860's. After Phylloxera epidemic of the 1900's and then Prohibition in the 1920's the vineyard was allowed to go back to native forest for more than 70 years! The vineyard was replanted in 1997 with only 10 acres.
Susan Hoff is the real heart and soul of Fantesca, and she recruited the legendary winemaker Heidi Barrett to be the Winemaker. If you are not familiar with Heidi Barrett; she gained legendary status at Dalle Valle by creating powerful Cabs including the famous "Maya" cult cab that received two perfect 100-pt scores from Robert Parker. She then was hired by Screaming Eagle and AGAIN received two perfect 100-pt scores from Parker! This is a legendary name in Napa and she married well too. You may know Heidi's husband Bo Barrett and Father-in-Law Jim Barrett of Chateau Montelena and the famous Judgment of Paris and the movie Bottle Shock.
We had a personal tasting of available wines, a barrel tasting, and a tour of the facilities including the Cave. The Cave was an old silver mine in Spring Mountain, and it holds the barrels for aging at a perfect 58-F.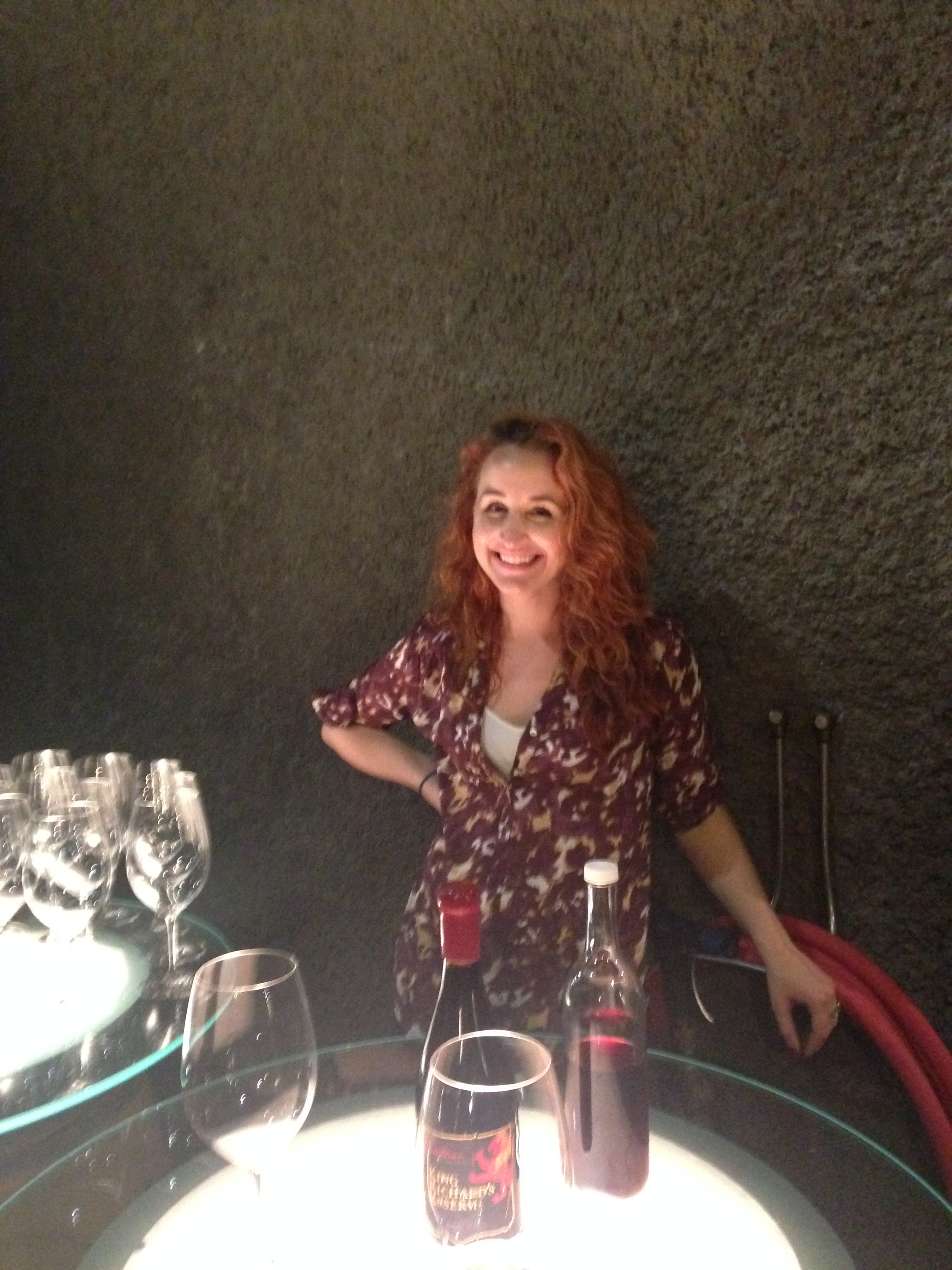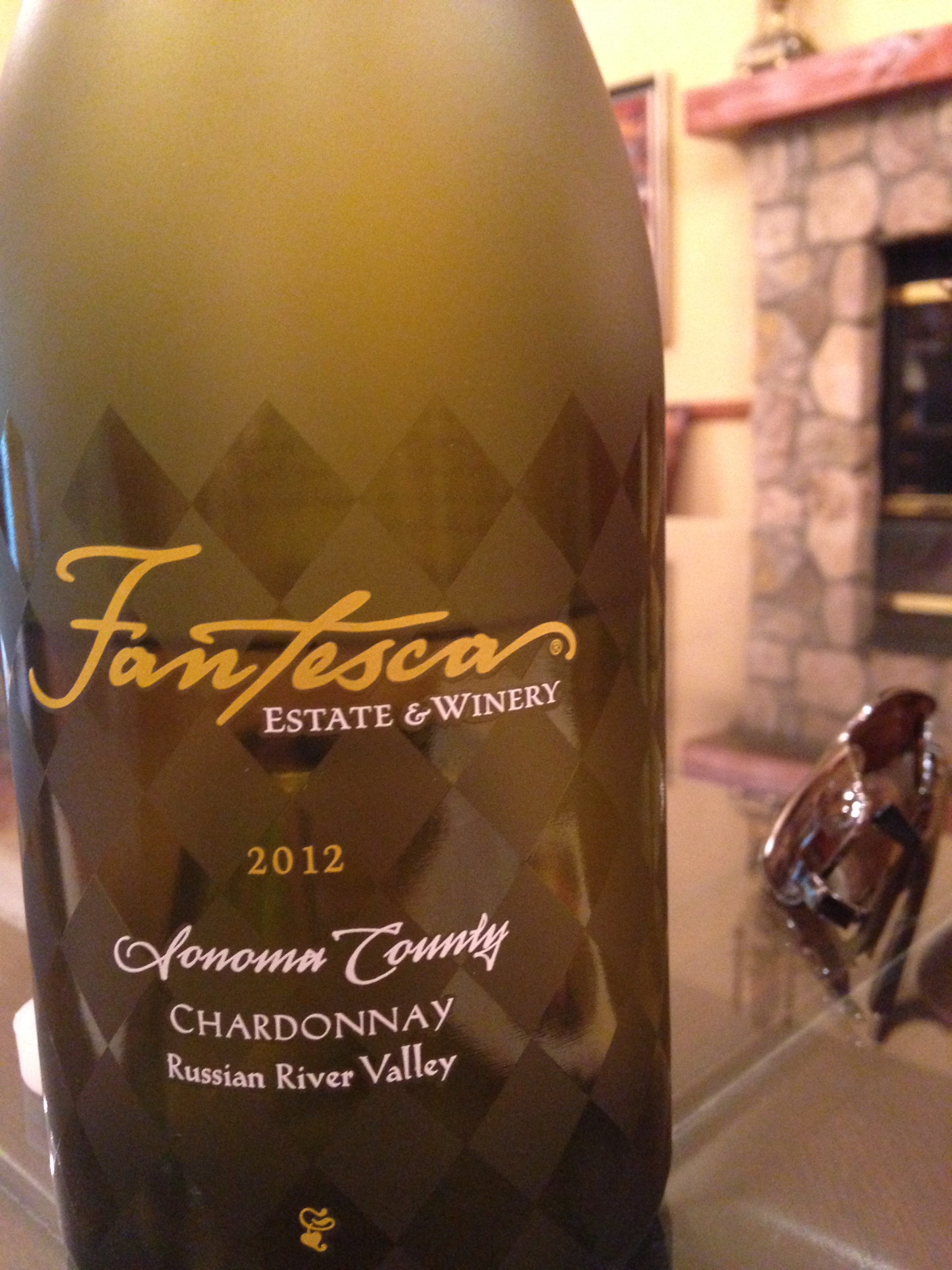 The 2012 King Richard Reserve Russian River Pinot Noir and the 2012 Russian River Sonoma County Chardonnay were all that was available for tasting, and both were quite impressive. We left with few bottles of each, and we are looking forward to sharing these incredible Heidi Barrett wines soon! I will have tasting notes at that time.
Next stop was the iconic and legendary Chateau Montelena! I This is the historic winery that bested the French Burgundy in the famous Judgement of Paris! I have been all over Sonoma and Napa Valley and never visited in the past, so a quick visit of the beautiful property so full of history was a "must stop". We strolled around the beautiful grounds longer than we did tasting wine because I know how incredible these Cabernet Sauvignon and Chardonnay are already because Margie and I often drink them at home.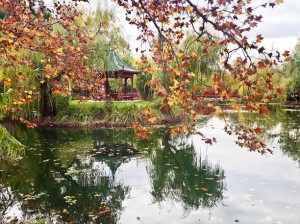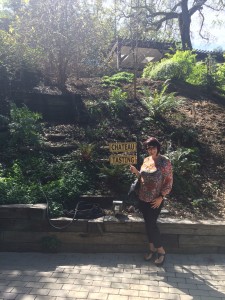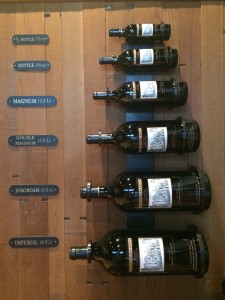 We headed South on Hwy 29, and even though I knew it was getting late in the day I always have to stop at one of my favorite wineries; Peju Province Winery in the mecca for Cabernet Sauvignon, Rutherford. We stopped in for a quick tasting! Then back in the car to visit my very special friend Carrie at Napa Valley Wine and Cigar in the city of Napa!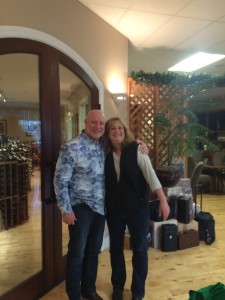 Stopping to see Carrie is ALWAYS a MUST STOP for me when in Napa!
She is such a sweetheart, and she has an absolutely phenomenal selection of wines and cigars for all your hedonistic needs. If you tell her I sent you and ask very nicely, she will take you to the back room and the "special stash" of wines. I have bought some great wines from her over the years because she is on everyone's wine lists, and has the wines in stock when no one else does!
Looking for a Harlan Estates or Screaming Eagle? She has it! How about a Dalle Valle or Saxum's James Berry Vineyard? She has it!
Pick up a great stogie while you are there too!
We were exhausted after a long day in paradise, so we had a simple dinner and an early night getting ready for the next day!
Check back soon for Day-2 where we have NO SCHEDULE and we improvise the entire day!
Terry Hill The Texas Wineaux!

(Leave a comment!)