Jeff Manghas took over as Winemaker early 2015 at the iconic Williams-Selyem Winery after 3 years as the Assistant Winemaker working under the legendary Bob Cabral.
Jeff Mangahas has big shoes to fill at Williams-Selyem Winery
Because Bob Cabral is a living legend in wine… world wide
In 2007 Wine Enthusiast awarded Bob's Litton Estate Pinot Noir a perfect 100 points. It is the first Pinot Noir in North America given 100 points by any major wine publication. Then in 2011 he was awarded Winemaker of the Year for 2011 by Wine Enthusiast Magazine. Bob follows fellow past honorees Genevieve Janssens of Robert Mondavi Winery (2010), Scott McLeod of Rubicon Estate & Francis Ford Coppola (2009), Margo Van Staaveren of Chateau St. Jean (2008), Carlo Ferrini of Italy (2007), and Olivier Humbrecht of Domain Zind-Humbrecht, France (2006).
As I said; Big shoes to fill.
Jeff Mangahas joined Williams Selyem from his position as Winemaker at Hartford Court, where he oversaw all aspects of winemaking for the ultra-premium Russian River Valley Pinot Noir, Chardonnay and Zinfandel producer. Jeff received his Master's in Enology from UC Davis, in addition to his B.A. in Molecular Biology from the University of Washington. He began his winemaking career as a cellar hand at Artesa Winery prior to becoming the assistant to Dan Goldfield at Dutton Goldfield Winery, digging into the world of cool-climate Pinot wine growing. Then he was on to the role of Winemaker at Hartford Family Winery, specializing in Pinot Noir from Russian River Valley and Sonoma Coast appellations.
So when he stepped down as Winemaker at Hartford Court to Assistant Winemaker at Williams-Selyem you had to read between the lines that he was being groomed to take over for Bob Cabral someday.
Not a bad move if you ask me…
So when I sat down to interview Jeff Mangahas back in March 2015, I was excited and curious how the transition and passing of the torch was going. Jeff was very gracious, well spoken, and is a terrific spokesman for this iconic winery.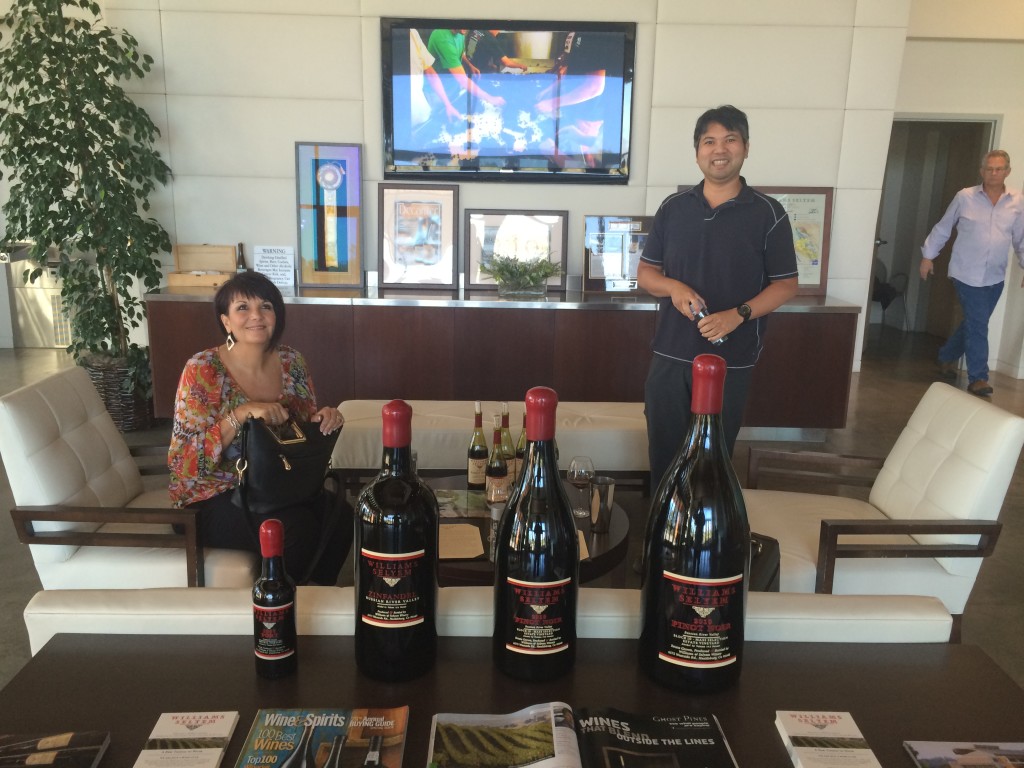 Terry: Bob Cabral helped define the style that is Williams-Selyem, and in the process achieved legendary status, not only in California but the world. These are big shoes to fill. How will you deviate if any from this style, and how will you make these wines your own?
Jeff: The realility is Burt Williams was the first Winemaker at Williams-Selyem and a lot of his philosophy… and we will take a tour and take a look at the tanks here, but Bert put in place the process that is Williams-Selyem. He sourced the best grapes throughout the Russian River Valley and Sonoma Coast, sites of uniqueness, sites that have expressiveness that speak volumes about the process we have here at Williams-Selyem. Bob studied under Burt, and I studied under Bob. So the reality is the process is pretty much identical. Not to say we don't do things a little bit differently, because we do. But the philosophy stays the same that Burt instituted.
Terry: How long did you work under Bob?
Jeff: I started in 2011, so it was a number of years, three years or so. So this process; down to the barrels and the same cooper, the same house toast that Burt used when he started the winery in 1981. Same barrels that Bob used, and the same barrels that I use today. The fermentation tanks that we use are really very unique. We use these dairy tanks so they are very non traditional. You think of tanks as round, upright tanks. Ours are horizontal and actually used dairy tanks that have the ideal ratio of skin to juice that really allow us to define our style. And whether you go from Burt to Bob to me, it is that wonderful texture which I'm sure you understand. And that is largely due to how we make our wines in these tanks. Most of our wines are in that 13.5 to 13.8% alc range. Coupled with the way that we make the wines, it makes for freshness and acidity that allows for longevity and elegance. There is something about what we do that has a unique texture. I mean I can always pick our wines out of a blind tasting.
Terry: So can I.
Jeff: Exactly, there is a signature to that. So to partly answer the question 'what have I changed'?  I really haven't changed anything.
Terry: As my grandfather used to say 'If it ain't broke don't fix it'.
Jeff: Exactly, obviously we as winemakers are always going to have these small differences, but it never deviates from the philosophy of what Burt did.
Terry: Pinot Noir and Chardonnay are the primary varietals of Williams-Selyem, both were originated in Burgundy France. Although the terroir is obvioulsly different, in fact worlds apart. What can you tell me about how the wines of William-Selyem are similar and how are they completely different?
Jeff: It's kind of a difficult question to answer because obviously the varietals are the same and the spirit of the wines are the same. But the climate is so different, and we make a little bit of zinfandel as well. But mostly pinot noir and a tiny bit of chardonnay. Arguably those two varieties  express the site very well. Obviously we have very different soil types here, more of a sandy kind of loam. In Burgundy it is more of limestone rich. Our heat units are a lot more consistent here in this region. So it is almost impossible to make those comparisons because we are making unique wines, just like they are making unique wines in Burgundy. Or in Oregon, as they are making unique wines because the soils are so different. What I love about what we do is we make 25 different pinot noirs on average, and about 19 of these are vineyard designate. And if one were to taste all those wines side by side you would find transparency in the sight. It is the nature of pinot noir. It translates that sense of place very well. And our wine making style is geared towards highlighting that sense of place in that we do. Everything exactly the same across all vineyard sights and each individual blocks. Same kind of  tanks, same kind of barrels, so when you are tasting the wines the uniqueness and expression of the flavor profile really becomes apparent. It is just hard to compare. The soils are different, the weather is different, more fog here than Burgundy, certainly more than Oregon and that has an impact on preserving acidity. So it's all pinot noir in spirit. But what everyone has in common with pinot noir is it's ability to be specific to the sight. I think that is what we all have in common.
Terry: William-Selyem has a rather large portfolio, especially considering your near cult status. Are you making too many wines?
Jeff: I don't think so, I mean again just being able to go back and taste all the pinot noirs side by side, they are all very unique and different. We are making a small production for each one of those. I think it is great for our customers to have that education level. And we have five different Chardonnays and they seem to enjoy them and continue buying them. So no, I don't think we are making to many wines.
Terry: As long as the quality is there they will continue buying them.
Jeff: Exactly
Terry: How do you assure such quality across the board? Because you do have a very large portfolio.
Jeff: We have a phenomenal team across the board, both in the cellar and the vineyards.  We work with great Vineyard Managers from all the vineyards we buy from, and our own Vineyard Manager here is great. But to be sure it isn't easy. There is a lot of hours and a lot of precision work that goes into that. As much as anything as we start the growing season, and the shoots are a couple of inches at this point, I make regular rounds with the Vineyard Managers, and meeting with all to make sure everything is going as it should.
Terry: How often are you in the field?
Jeff: During the growing season definitely almost every day. Depending on my work on this ranch, then going up to Anderson Valley, then up to a vineyard called Ferrington Vineyard and work with that manager, so every day I'm in a different place. And yes, it's almost overwhelming but keeping tabs on everything is the key.
Terry: Do you plans for a broader release of wines like a cabernet sauvignon or a sparkling?
Jeff: We do already produce a small amount of sparkling to people that visit the winery only. It is not available on the members list. It's pinot noir, so it is a blanc de noir that we make. We dabbled in blanc de blanc but we settled on the blanc de noir. I want to say our first vintage was 2003, and it's only 50-100 cases. Nothing on a commercial scale, it is simply to dabble and when we do events. It's nice to be able to open a sparkling wine to start the evening. Beyond that no, we are not launching sparkling on a bigger scale. As far as the other varieties, this is Russian River, so we try and stay with what grows well here. Other wise we dabbled in a vineyard that has some limestone near Calera that we made a little Chinon Blanc that was very expressive of the sight. 150 cases, again only wines that are available if you visit the winery.
Terry: Kind of like Blue Bell Ice cream in the South; you "drink all you can and sell the rest"?
Jeff: Ha! Exactly!
Terry: Are you married?
Jeff: Yes I am.
Terry: Children?
Jeff: One 8-year old little girl.
Terry: I know the hours and commitment it takes to produce arguably some of the finest pinot noir and other varieties in the entire world has got to be very stressful. How do you balance these incredible responsibilities and still have any personal life?
Jeff: It's difficult at times, but my wife Crystal is incredible supportive. This is my 15th year making wine and I've always been committed to work and have family. I've always wanted those two things and I am committed. And it is incredible to have someone that is so supportive. That is how I've been so successful in my life is that support at home.
Terry: I know it is more hours at different times of the year, sometimes I am sure  it is 18 hour days. How many hours per week do you typically work?
Jeff: It is really hard to quantify exactly, I pretty much work as much as I need to get the job done. Sometimes its in the winery, or at events or what have you. Sometimes I do travel, but an average day, even when not in harvest, I usually come in at 6:00 and leave at 6:30. There is a lot to do. And if you are going to meet with someone, you have to prepare for the meeting so you just have to do what needs to be done.
Terry: And I know how precious your time is so I really do appreciate this time you are spending with me.
Jeff: You are very welcome, glad to speak to you.
Terry: Jeff, I have a better than average palate with quite a few bottles of wine at the house. I keep so many bottles because I don't always know what mood I will be in. Often the mood dictates what I will open. That is why I keep such a broad spectrum of wines on hand, from Burgundy to Napa Valley Cabs and lots of French wines, and everything in between. Even though I write about wines, sometimes it just comes down to "what wine makes me smile". So what wines make you smile?
Jeff: I enjoy drinking our own wines, and we have a large library of older wines. So I have been able to taste through those after they have benefited from age, and I really enjoy those. Wines can often times be a difficult to describe, and sometimes I don't actually feel like I need to describe them. You just think; oh my gosh this is great and you know you need to sit down and just enjoy it without putting much thought to it. Example of this; a couple of weekends ago I had the opportunity to drink a 1990 Williams-Selyem. It was 24 years old and still vibrant, fresh and I didn't feel the need to pick it apart or to decide if the balance was perfect. It was just one of those times that I just enjoyed it, and it gave me a lot of pleasure. This was one of those moments. You know I am a student of the wines of the world and have traveled and I am a fan of Champagne. I love Burgundy, and I have tasted a lot of wines in my career, and even before getting into the wine industry.
Terry: Have you worked overseas?
Jeff: No I've never worked anywhere but here in Russian River but I feel like I am a student of the wines of the world because I have traveled to Burgundy, I've traveled to Italy, I grew up in Washington State and I've tried a lot of wines from Washington and Oregon, and obviously throughout California. I appreciate a great bottle of wine and you can almost taste that handcrafted style in the best wines of the world and those are the wines that I crave.
Terry: I've heard it takes a lot of beer to make a great wine. Is that true?
Jeff: Ha! Ha! It is! I actually make beer as well. In my off time I enjoy that, so yes that is absolutly true.
Terry: What kind of beer to you enjoy?
Jeff: I enjoy an IPA on occasion, but mostly I enjoy a softer and maltier beer, like red ales and Scottish ales. Slightly less bitter and are fun and interesting. We certainly have Russian River Brewing Company here in Santa Rosa and I enjoy a Blind Pig or a Pliny every now and then.
Terry: Do you get the Pliney the Younger?
Jeff: Ya know, I haven't done it in many years. It used to be less popular, now it has become so popular but I just can't stand in line for it for 3-4 hours. And it is great what they have done with making it so popular, but it just gets to the point with work and family there just isn't enough time. I would rather be playing with my daughter. As fun as it would be to go try the latest vintage of Pliney, I'd rather be playing with my daughter.
Terry: You are very well known in certain circles, and have gained a certain celebrity status because of your job. Can you walk into a restaurant and people not know who you are?
Jeff: Absolutely. Obviously having lived in this community I know a lot of people, but I like that I have a certain unanimity still. It's all good.
Terry: And finally, anything new and exciting that my readers should know about that will be coming from Williams-Selyem in the coming year?
Jeff: There are a few vineyards that have come on line in 2011, and working with those Vineyard Managers and Growers heavily for the improved quality. We are always looking for opportunities to improve, that's how you get better for sure. There are a couple of vineyards that I am really excited about, they are performing really well and as the vines get older. We are looking for consistency. The 2014 vintage that we just finished blending, and so far is a phenomenal vintage, so I am definitely looking forward to that. It will be interesting to see how the '12, '13 and '14 vintages; each super high quality, and hopefully the customers will be able to appreciate that it isn't just a broken record, that it just isn't this good all the time. There is a real precision that the '14 wines have that I am really excited about. Unfortunately those wines will not be released until 2016, but that is definitely something that you can look forward to for sure.
Terry: 2011 was a very challenging vintage. Did you see some of your clientele not taking all of their allocation?
Jeff: No we sold out. It was also below average in terms of quantity. We produced less wine produced in that vintage. We had some issues with flowering because of the bad weather that reduced the crops by 1/3. So in a lot of cases we were down in production by 25-30%. So we sold out.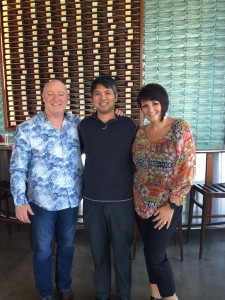 As I said, I found Jeff very gracious, intelligent, and a with real passion for what he does. More so; a realization how fortunate he is to have the reins of this incredible bastion of World Class Pinot Noir! He definitely knows the challenges he has in front of him and the legacy he is following with Burt Williams and Bob Cabral, but he knows what he is doing I assure you.
I went in to the interview with a certain amount of skepticalism and left with a sense that Williams-Selyem is in very capable hands. I believe that Jeff will keep this iconic winery producing some of the best Pinot Noir, Chardonnay, and Zinfandel in the entire world
.
Talking Wine with Jeff Mangahas
And I want to thank Jeff for spending so much time with my wife Margie and I (2-1/2 hours). I understand how precious your time is and I cannot express how much we both appreciate everything you did done for us and more importantly the time spent with us.
Congratulations Jeff Mangahas!

Custom French Oak Barrels $2700 ea!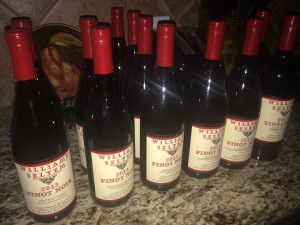 Thank you for reading the ramblings of Terry Hill, The TEXAS WINEAUX!
PLEASE LEAVE A COMMENT!