The Dallas Wineauxs got together for a terrific 5-Course Wine Pairing Dinner recently. The incredible table d'hôte was hosted by Samuel Rickords of ReDoux Wine, and the brand new Ruth's Chris Steakhouse in Uptown Dallas.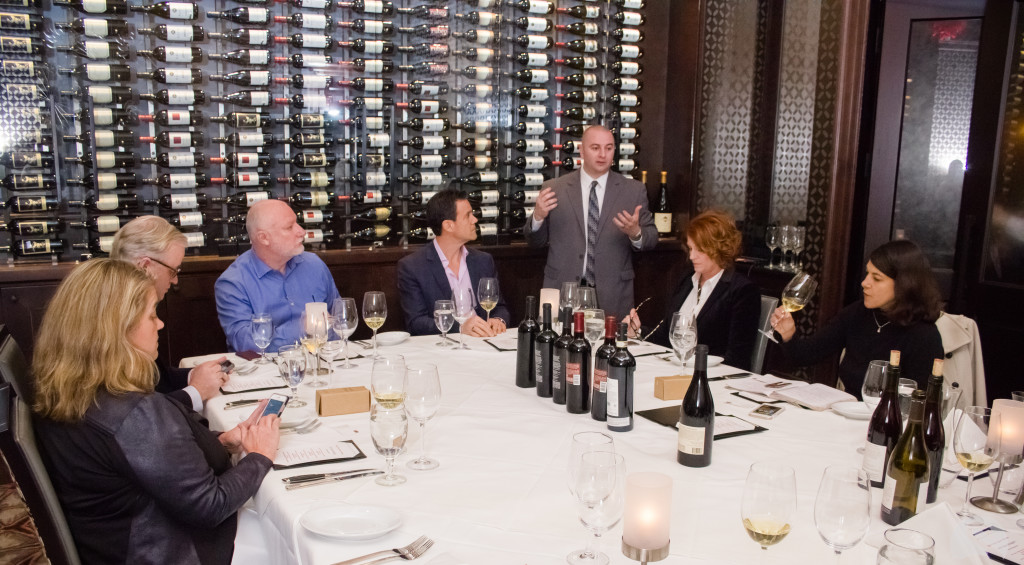 Our wine group;  "Dallas Wineauxs" get together 5-6 times a year to talk about wine, pitch our latest 'wine finds', enjoy each others company, eat great meals  and wine pairing with our menu, and of course share many bottles of wine. Sometimes it is at each others homes with a theme for the night. Other times it is meeting at a restaurant such as Toulouse French Bistro for an extended lunch. Once in a while we get invited to join in on a great experience such as this incredible Wine Pairing Dinner!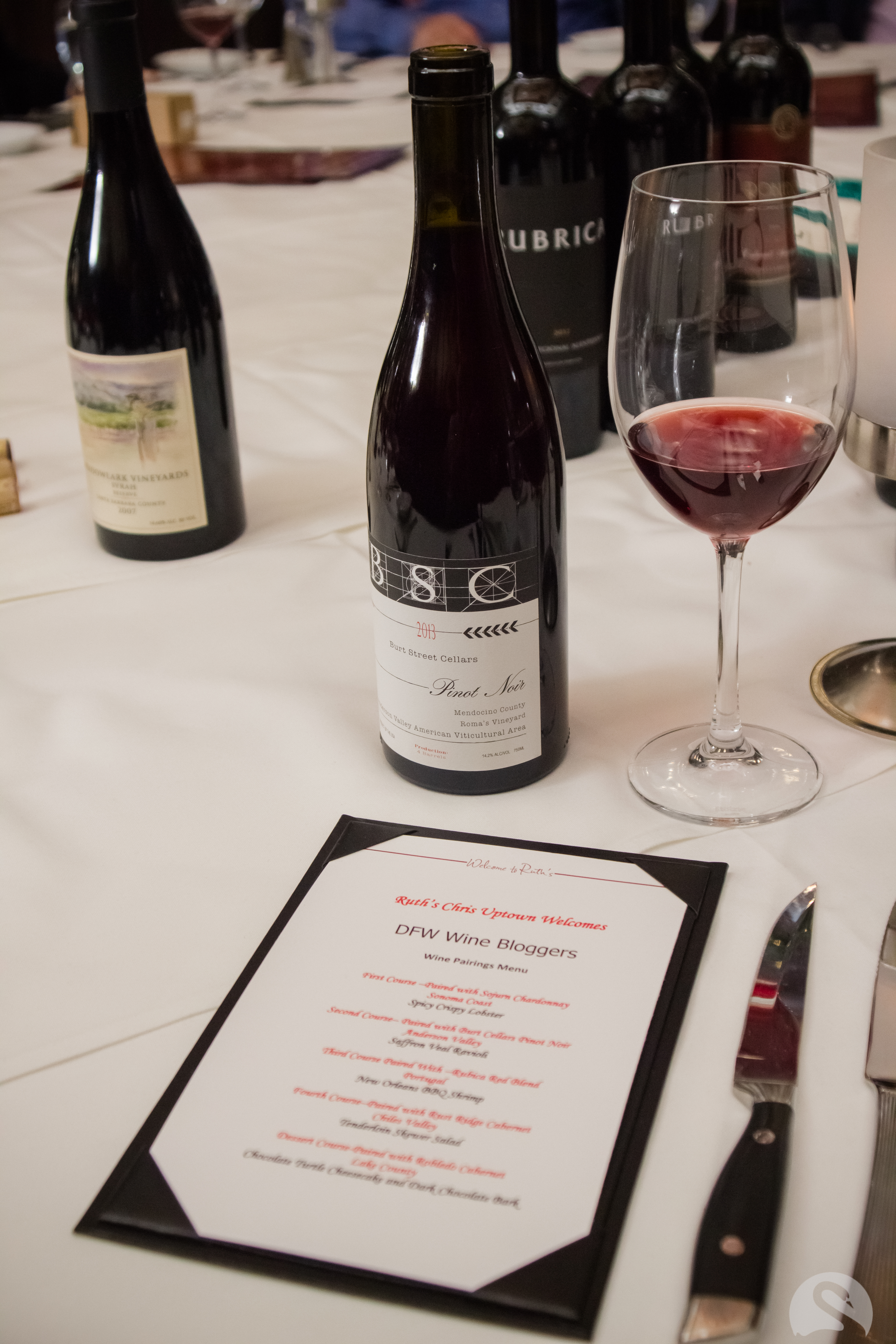 Samuel and Amanda Rickords are owners of Redoux Wines. Redoux is a young and growing wine distributor based in Dallas, that specializes in representing a very select and distinctive group of "boutique wineries" from California. Often Samuel has known the actual winemakers and their families for decades because he grew up in Sonoma Valley, California. He and his wife Amanda met when he was with Ledson Winery in Kenwood, CA. Amanda was blessed to be a Texas Girl that loved Cali Wine County. On a girls trip to Sonoma years ago Amanda and Samuel met,  fell in love, and were married in the vineyards soon after. A real fairy tale you could say! Amanda convinced Samuel that Texas was the place to be (her child and family were in Dallas). So he moved to Dallas to begin a family and soon started Redoux Wines with Amanda. They have been succesfull in this endevour of the heart, mainly because they really are what my dear Grandfather used to call "Good People" that have a real passion for wine and food. And Samuel is always more than willing to share this passion with anyone that will listen!
Samuel & his wife Amanda strongly believe in contributing to a legacy beyond just selling wine. As proud supporters of Honor Courage Commitment (HCC), Samuel & Amanda seek to incorporate veterans into the business. In addition, Samuel provides wine education for "22 Fellows"–a unique training program to maximize veteran talent to grow the US economy and build local communities. For more information about HCC, please visit www.honorcouragecommitment.org.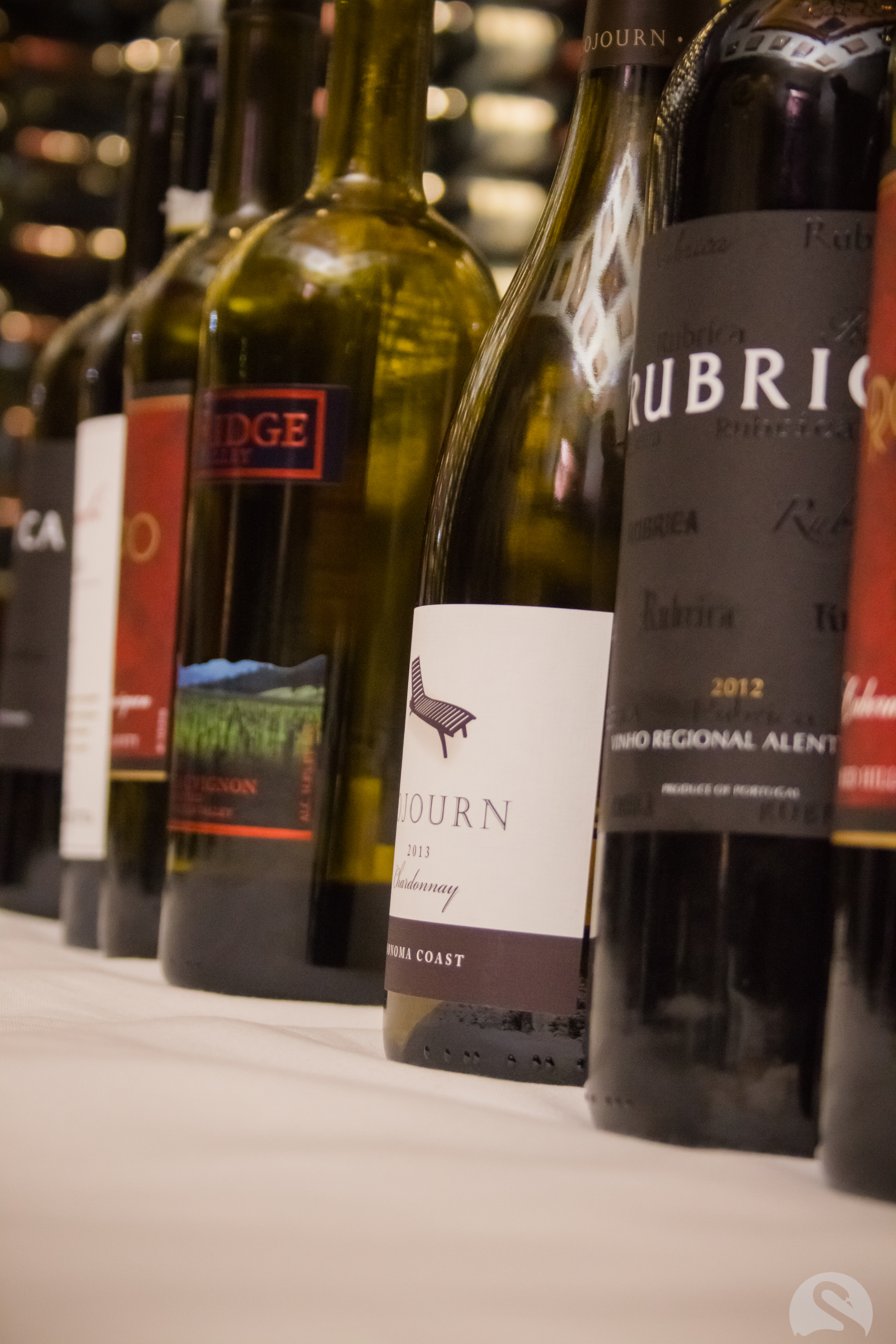 Our venue for the night was the private "Wine Room" at the all new Ruth's Chris Steakhouse in Uptown Dallas. The Manager on duty Alan Schulz was very gracious, accommodating, and informative. In fact Alan was raised in New Orleans, LA a few blocks from the original Ruth's Chris!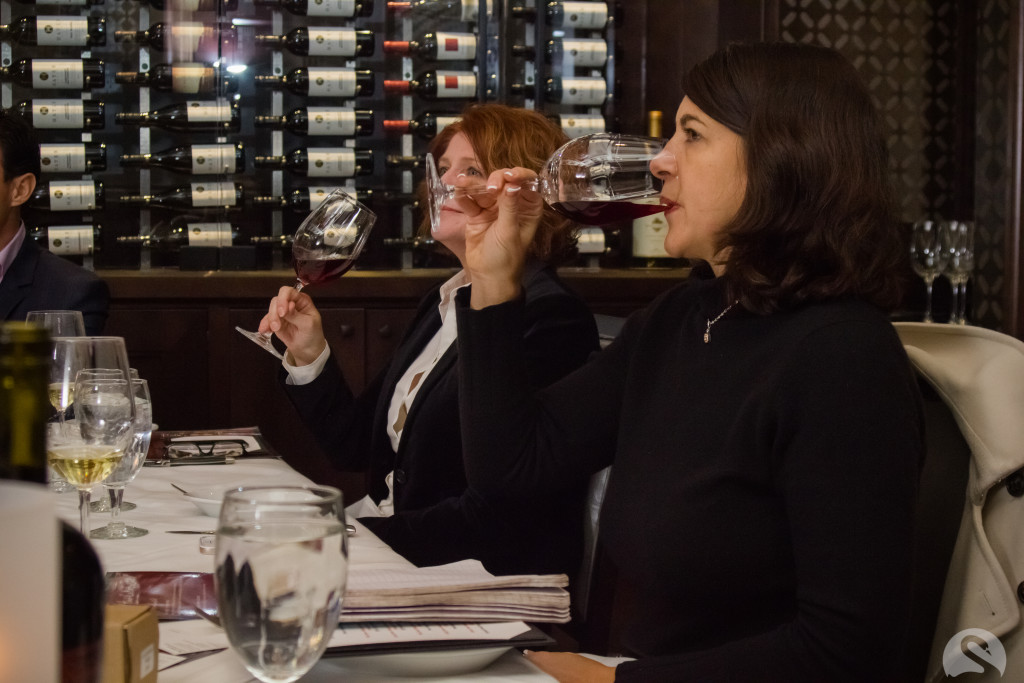 A little history of Ruth's Chris Steak House:
In 1965 Ruth Fertel, a divorced mother of two, mortgaged her home for $22,000 to buy a small 60-seat restaurant in New Orleans, Louisiana named "Chris Steak House". Shortly thereafter, a fire forced her to change the original location and she renamed the restaurant, "Ruth's Chris Steak House." In 1977 at the urging of a loyal customer she granted the first franchise. Now there are over 140 worldwide. Ruth died in 1990, but the legend continues, as does her recipe for success:
"Insist on making a toast. Make big plans, but live spontaneously. Live and dine without regret." ~Ruth Fertel~
The Uptown area in Dallas is the most happening scene anywhere in the DFW area. Lots of young professionals live in the luxury condos, townhouses, and high rise residences throughout the very upscale area between the American Airlines Center (home of the Dallas Mavericks), and Downtown Dallas. It is the perfect place to build a great steak house! Although a little difficult to find at 1900 Cedar Springs Rd, it is well worth the extra effort. They only opened the doors to the public a couple of months back, and many of the staff left great jobs at other upscale restaurants to join the Uptown Ruth's Chris because they believe they are part of something special. And you can see it in the way every employee bent over backwards to be helpful in every way. We had a terrific young waiter that was very knowledgeable, engaging, and always ready to help the dining experience become more pleasurable.
The interior is elegant, stylish, and tasteful. Trust me when I say you will be impressed!
Looking for a terrific spot for Happy Hour Uptown? Ruth's Cris Uptown's $8 Sizzle, Swizzle and Swirl Happy Hour is featured Sunday-Friday from 4:30 – 6:30 p.m. in the large open bar and includes tasty appetizers, cocktails, and impressive wines for $8 each!
Samuel met with Manager Alan Schulz and Executive Chef Willie Singleton beforehand to pair the wines from Redoux with the 5-courses served.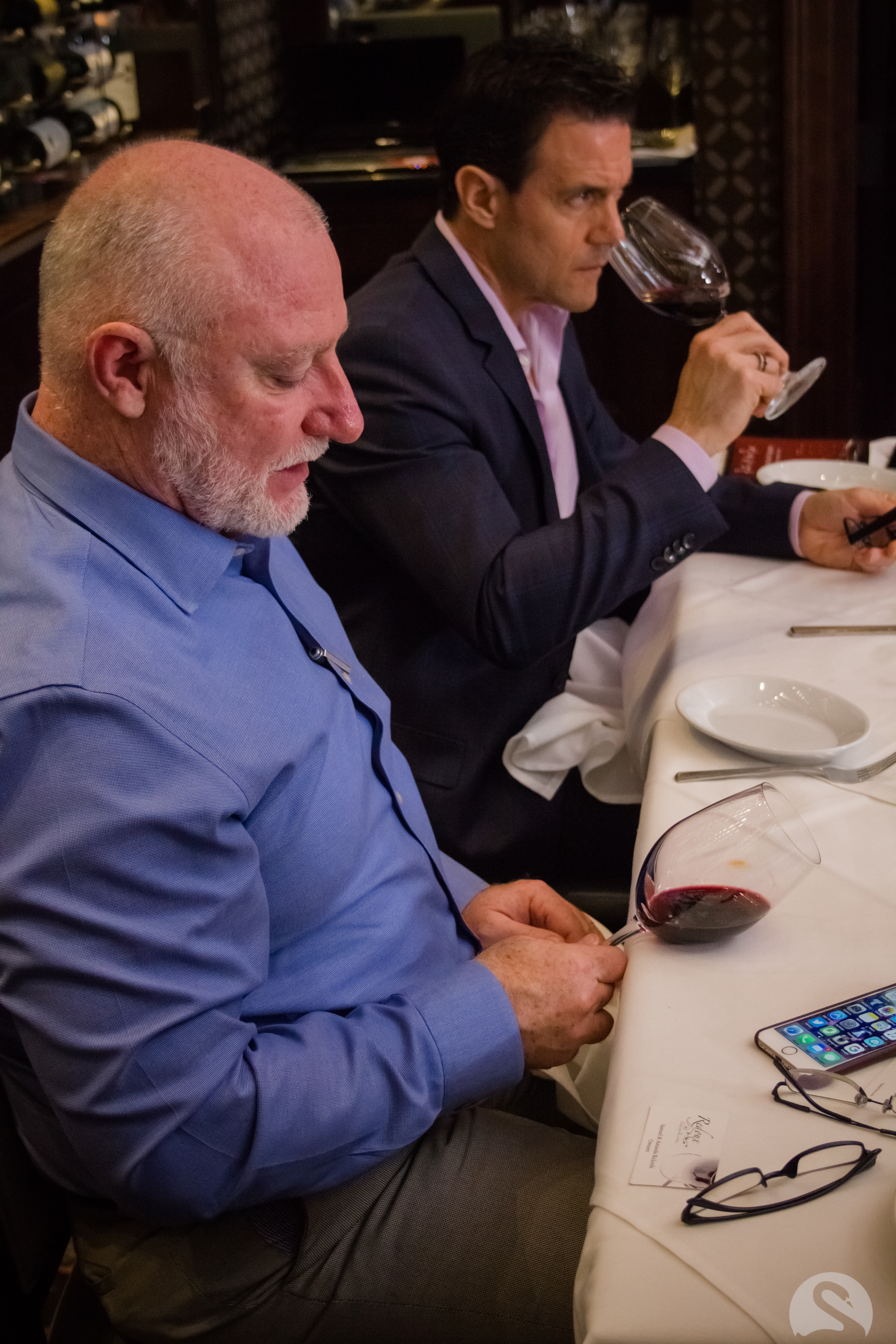 Let me congratulate all involved in the pairing of wines and food…outstanding!
First Course: Spicy Crispy Lobster paired with Sojurn Chardonnay Sonoma Coast. The Crispy Lobster was slightly spicy but sweet, and the acidity and crispness of the very lightly oaked 2013 Sojurn Chardonnay Sonoma Coast matched wonderfully.
Second Course: Saffron Veal Ravioli paired with 2013 Burt Cellars Pinot Noir, Anderson Valley. Ravioli stuffed with spicy Osso Buco veal and mozzarella cheese with a white wine demi-glace matched perfectly with the spicy and slightly earthy pinot noir. BRAVO!
Third Course: New Orleans BBQ Shrimp paired with 2012 Rubica Red Blend from Portugal. I never would have paired slightly spicy New Orleans style BBQ Shrimp with the slightly rustic blend of: Alicante Bouschet, Touriga Nacional, Syrah, Aragones and Petit Verdot. But this was the most impressive pairing of the evening. The red wine mellowed out and let the food shine beautifully!
Forth Course: Tenderloin Skewer Salad paired with 2007 Rust Ridge Cabernet from Chiles Valley, California. Tenderloin Beef marinated in Teriyaki and slightly sweet paired very well with the Rust Ridge Cab with notes of Cherry, cola, cassis, and blackberry. In fact the sweetness of the tenderloin really soared with this ready to drink Chiles Valley Cabernet!
Fifth Course: Chocolate Turtle Cheesecake and Dark Chocolate Bark paired with 2008 Robledo Cabernet Sauvignon from Lake County. I dearly love chocolate paired with a great cabernet sauvignon, and this was absolutely perfect with the light Chocolate Cheesecake! The Dark Chocolate Bark had sea salt with cranberry infussed that was really tasty by itself, but the cranberry clashed badly when paired with the Cabernet Sauvignon. This was the ONLY disappointment of a wonderful evening, as I would have only served the chocolate cheesecake and skipped the bark.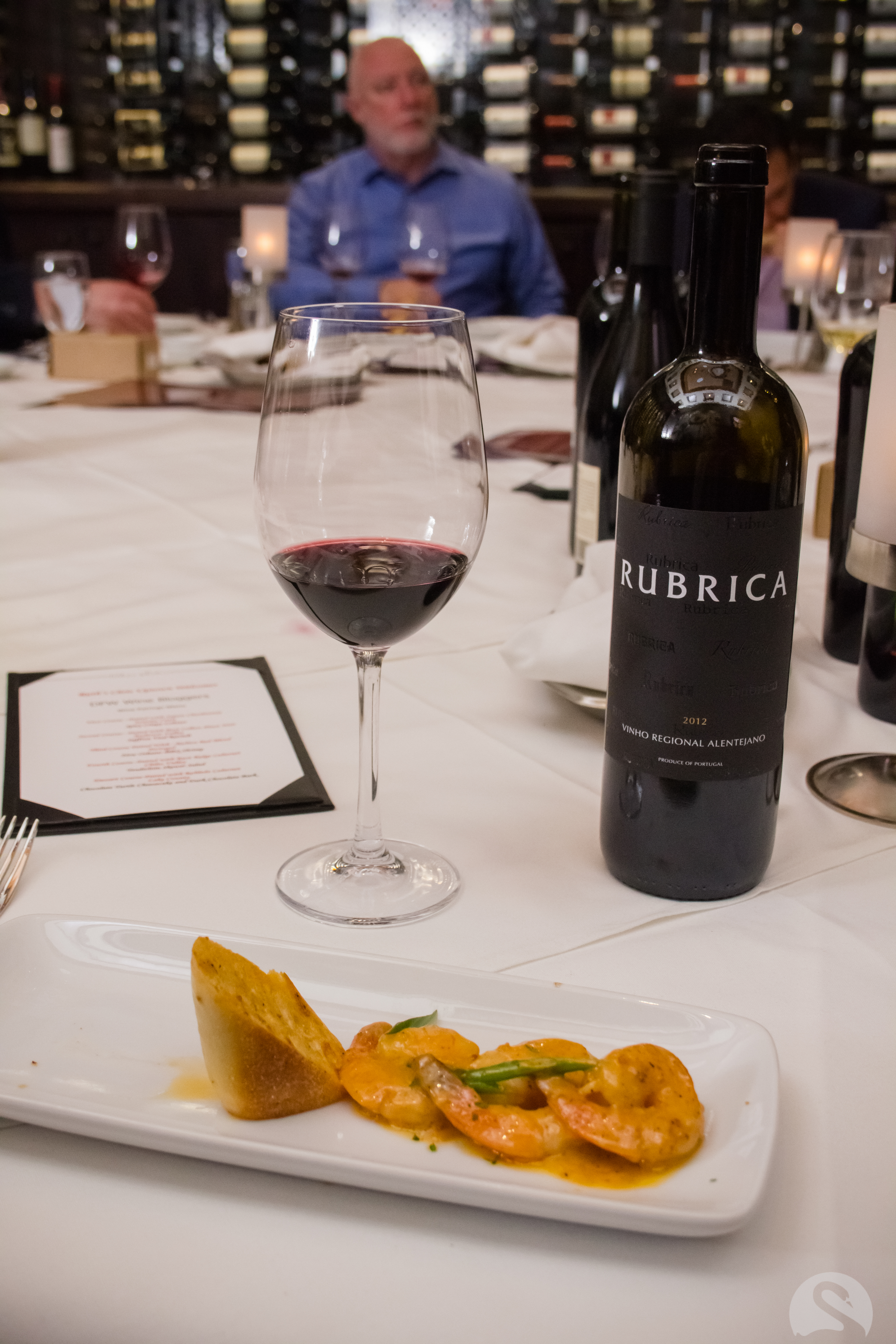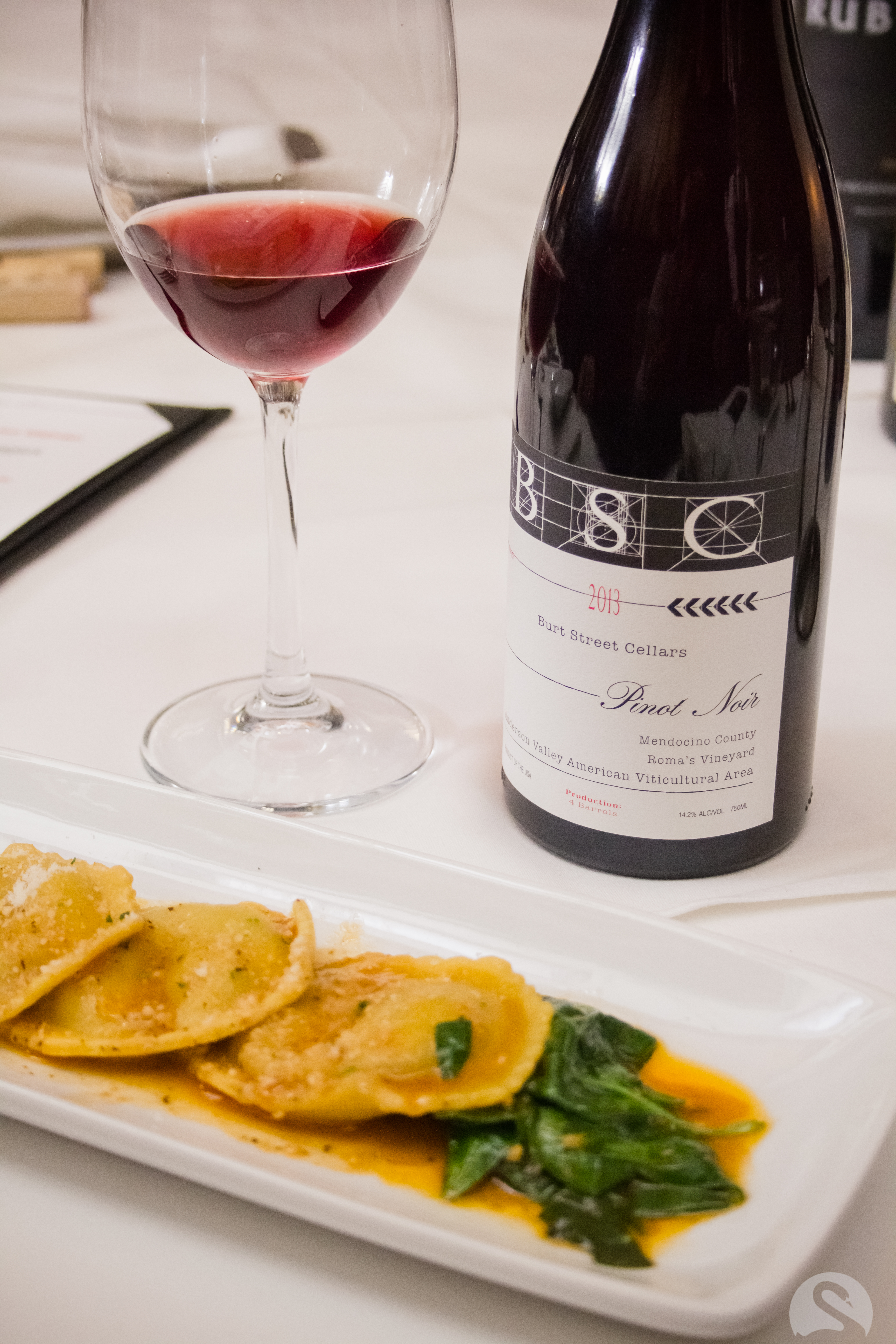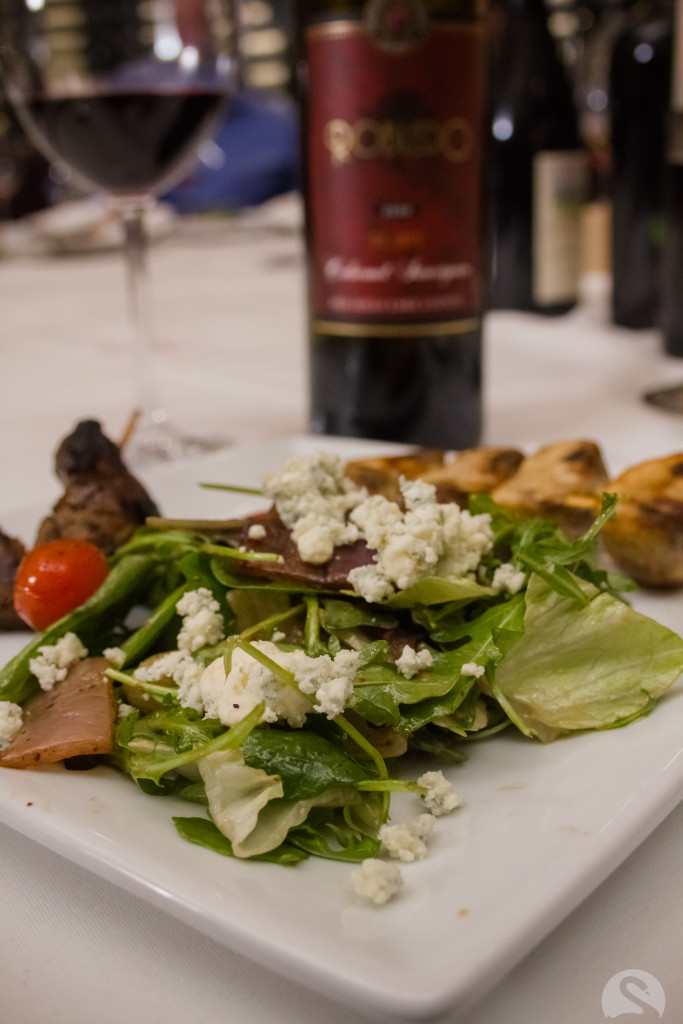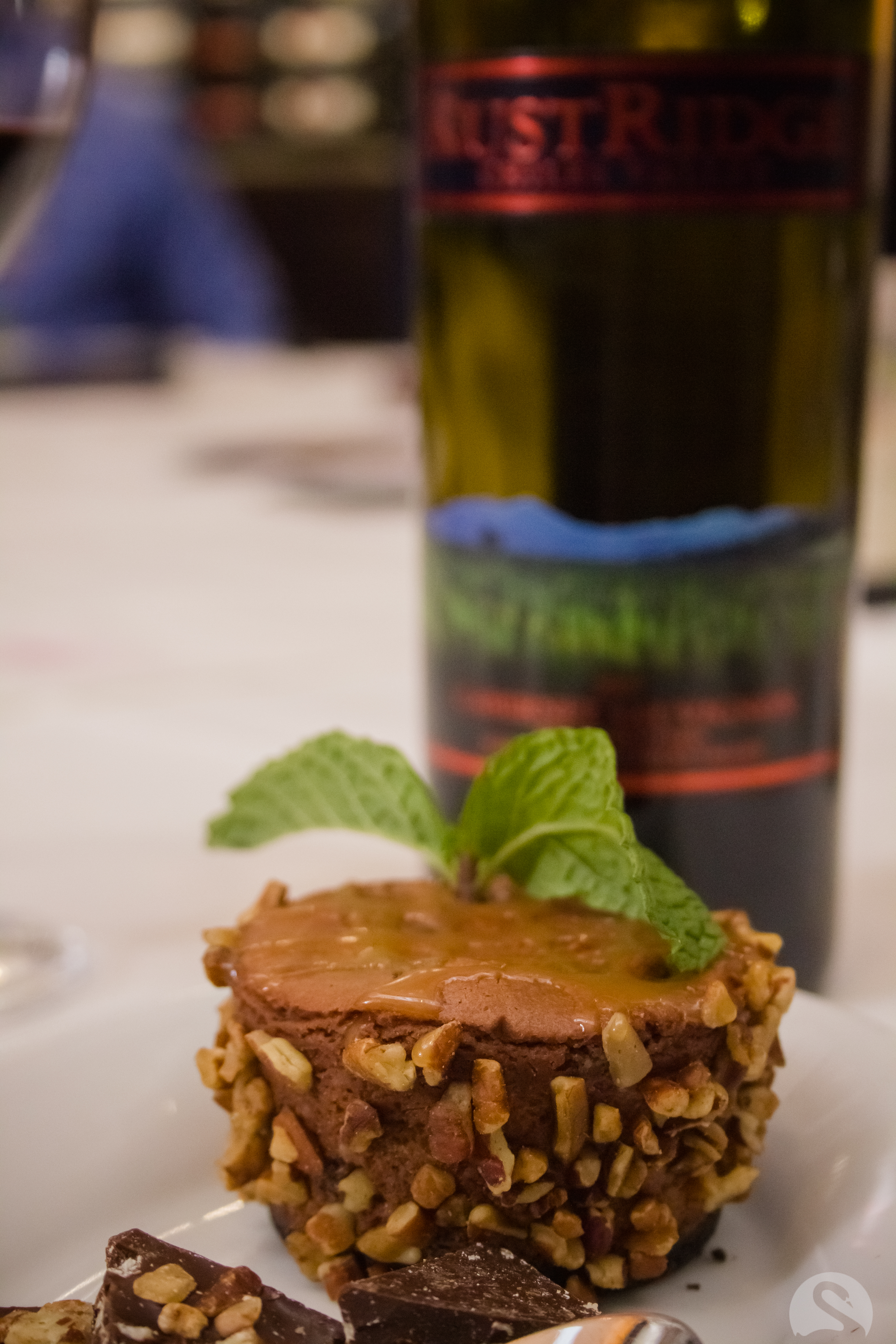 A terrific time was had by all at this incredible Wine Pairing Dinner, and I know that I speak for all the Dallas Wineauxs when I say; if you are in the Dallas area, especially around the Uptown District you really should drop by the new Ruth's Chris Steakhouse Uptown!
Bravo Samuel, Asher, and Alan!
Thank you for visting and reading the ramblings of Terry Hill, the Texas Wineaux! Please leave a comment below and check back from time to time for new posts.
Twitter: @friscokid49
Instagram: @texaswineaux1
**Photos are from Asher Swan of Swan Photography, and he can be reached at asher-swan@live.com or www.swan-photography.com . Thank you for the great photos!