Sonoma County has a lot to celebrate. The most obvious is great wine. I am a believer that the most incredible Pinot Noir, Chardonnay, and Zinfandel in the ENTIRE world come from Sonoma County!

Sonoma Valley Grapevines
One of the best perks about what I do here as the Texas Wineaux, is I get invited to many incredible wine events throughout the year. A few years back Sonoma In The City rolled through Dallas promoting the incredible wines of Sonoma County. It was a first class event held at The Rosewood Mansion on Turtle Creek near downtown Dallas, and sponsored by Sonoma County Winegrowers, Vintners, and Sonoma County Tourism.
It was a open tasting event that featured some of the best wines in Sonoma County including legends such as; Patz & Hall, Ferrari-Carano, J Vineyards, Seghesio, Gary Farrell, MacPahil, Francis Ford Coppola, Jordan, Rodney Strong, Chateau St. Jean, Gundach Bundschu, Martinelli, and Ramey. But what I enjoyed most is tasting some of the not so well known producers such as Papapietro Perry (one of my favorites!), Benovia, Dry Creek Vineyard, and possibly my favorite; Davis Family Vineyards. I was able to taste my way through Sonoma County and celebrate the diversity of the wines.
I have since traveled to Sonoma County several times, and actually visited many of these vintners, wineries, and producers. Some have elaborate wineries and tasting rooms, while others are considered "Boutique Wineries". This is a fancy word penned by the fine folks that are in charge of selling small wineries wines. Basically it means the wineries production is usually very small, and usually sold to restaurants or to wine club members only. Thus they cannot afford to build big elaborate tasting room. Often the tasting room is  simply a small building on the property and you taste from one of the family members! Other small producers will share a facility with 3-10 other Boutique Wineries. This can be very fun because you can taste several different producers' wines side by side. One of my favorite spots for this is The Barlow in Sebastopol. You can taste local wine, buy local art, and enjoy local foods all in one location! I would encourage you to stop by next time you are in Sonoma County.
Well, back in early December Sonoma County Tourism partnered with Rodney Strong Vineyards and Davis Bynum to highlight the incredible diversity of Pinot Noir Clones. Once again, the Sonoma County Tourism doesn't go cheap with the sites, as this wonderful affair was held for the media at the hippest spot in uptown Dallas; the Dragonfly at Hotel ZaZa in Uptown 
I knew it was going to be something special when we walked in and I saw Robert Larsen of Rodney Strong Wine Estates. I had met Robert a few times before at various tasting events including Sonoma In The City Dallas, and he is so witty and funny. Robert is very good at his job and is gifted with incredible communication skills. He can get down and dirty with the 'wine geeks"  like myself and talk shop with the best of them. But he also has a admirable ability to "not talk over the heads" of the others in the room (media mostly) that might not have quite the so called wine knowledge. Whatever you throw at him he always has the perfect response, smiles, and makes you feel great for asking ("great question" he said more than once).
He was joined by Tim Zahner, the Chief Marketing Officer for Sonoma County Tourism. Tim is very good at his job as well, and keeps the program moving, interesting, and broadened the talk into Sonoma County in general, not just the wonders of wine.
Together they joined forces for one of my favorite and most informative wine events I have attended.
We started out with seven glasses of wine, six with the typical  2-oz pours, and one with about 5-oz pour. It was explained by Robert Larsen that all the wines were produced by Robert Bynum and from Russian River, Sonoma County. They were all pinot noir wines made identically (same fermentation, same amount of oak, same vinifcation procedures, etc…), and all fruit was sourced from the same Jane's Vineyard, but different blocks within the vineyard that are planted to each individual clone. Each of the first six wines was produced with individual clones only, and the final glass was the finished product blended from ALL the wines at different percentages of each clone.
These clones included; Clone 777, Clone 114, Clone 115 Pommard, Wadenville Clone 2A, and Clone 667.
As you can see from the chart above, different clones add different color, aromas, texture, tannins, and acid
Now for the wine geek that I admit to be, this was a fascinating seminar that highlighted the way the different pinot noir clones can taste, smell, and feel in the mouth, simply by blending different clones together. Blending the right clones together for the perfect pinot noir is an art, and should be considered such!
So…what is a clone?

A clone is a group of identical genes, cells, or organisms derived from one single ancestor.
Grapevine clones are those that have been propagated and grown from cuttings from one single "mother vine," and were found to have an interesting or superior qualities.
Calwineries has a great explanation of why this is important here: Calwineries
Basiclly all 6 of the clone pinot noir were very nice wines on their own, and especially the 777 and the 114 clones were representative (to me) of what comes to my mind when I think "Russian River Pinot Noir". But the way Davis Bynum winemaker blended the 2012 Jane's Vineyard together was outstanding (see tasting notes below).
Davis Bynum has been making Pinot Noir in the Russian River valley for over 40 years. In fact, Davis was the first to produce a single vineyard Pinot Noir from RRV. The vintage was 1973, and the grapes were from Joe Rochioli's now prized vineyard. In 2007 Davis sold to the Klein Family but he stays on as support. Now Davis Bynum is under the infamous Rodney Strong label.
2012 Davis Bynum Jane's Vineyard Pinot Noir
Profile:  Bright med red in color. Aroma of oak (vanilla), cola, bing cherry, and cocoa. Med light body. In the mouth it is clean, delicate, and fresh, but with definite earthy and slight mushroom notes as well (possibly from clone 115?). Bright Cherry and Cocoa notes seem to change dramaticlly on the tongue, and a nice long oaky finish. This wine retails for $35 and is a strong buy from me. Great Russian River Pinot Noir at sub <$50 is difficult to find.
This is an elegant wine with med tannins and complexity that is the very reason I believe Russian River makes some of the best pinot noir made in the world!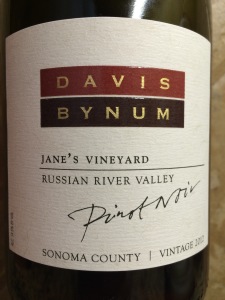 Well done gentleman, and thank you Sonoma County Tourism, Rodney Strong Wine Estates, and Davis Bynum Winery for this informative and entertaining event!
Thank you for reading my post. I would ask that you please leave a comment with your thoughts.
Terry Hill is the Texas Wineaux!

A blessed Holiday Season to all my Wineauxs!