I recently visited Lodi Wine Country. Yes, you read right. I said "Lodi Wine Country".

Lodi Gold! Photo courtesy of Randy Caparoso
I dare say most of the wine drinking public wouldn't know Lodi Appellation produced great wine. That is perhaps unless you are a wine producer, wine professional, or maybe a California wine enthusiast.  In fact, I am in the wine business and while I have enjoyed many terrific wines from Lodi Wine Country, I had to look up on a map exactly where Lodi, California was located  (By the way it is between Stockton and Sacramento).
Most folks only know Lodi from the Credence Clearwater Revival song and the line "Oh lord, stuck in Lodi Again". Being "stuck in Lodi" may have been the case in the 1970 when the song was recorded, but that certainly is NOT the case now.
This is cool, upcoming, and happening kind of wine destination. 

Well kind of…
I say "kind of" because  Lodi Wine Country is a Paradox. Let me explain.
The Lodi Wine Country was just named by Wine Enthusiast Magazine "Wine Region Of The Year for 2015"! That is quite a feat indeed, and quite an honor from a very prestigious magazine. Lodi Wine Appellation now boasts over 85 wineries in the area, and over 100 different varieties of grapes are grown. It isn't just Old Vine Zinfandel like many non-informed wine lovers think. Although some of the old gnarly Zinfandel vines planted in the 1850's makes as good of old vine zin as anywhere!
A few things to consider about Lodi Wine:
The passion and pride of the 4-5 generations of  Winegrape growers,
Incredible quality of the grapes they are producing and the terroir,
The truly ingenious young Winemakers
How Lodi is so primed to be the "next big wine destination". 
Lodi  seems to be a paradox. In other words while they are primed to the 'next big wine region' and everything points to just that, Lodi powers that be do not want that to happen.
Well kind of… I will explain later.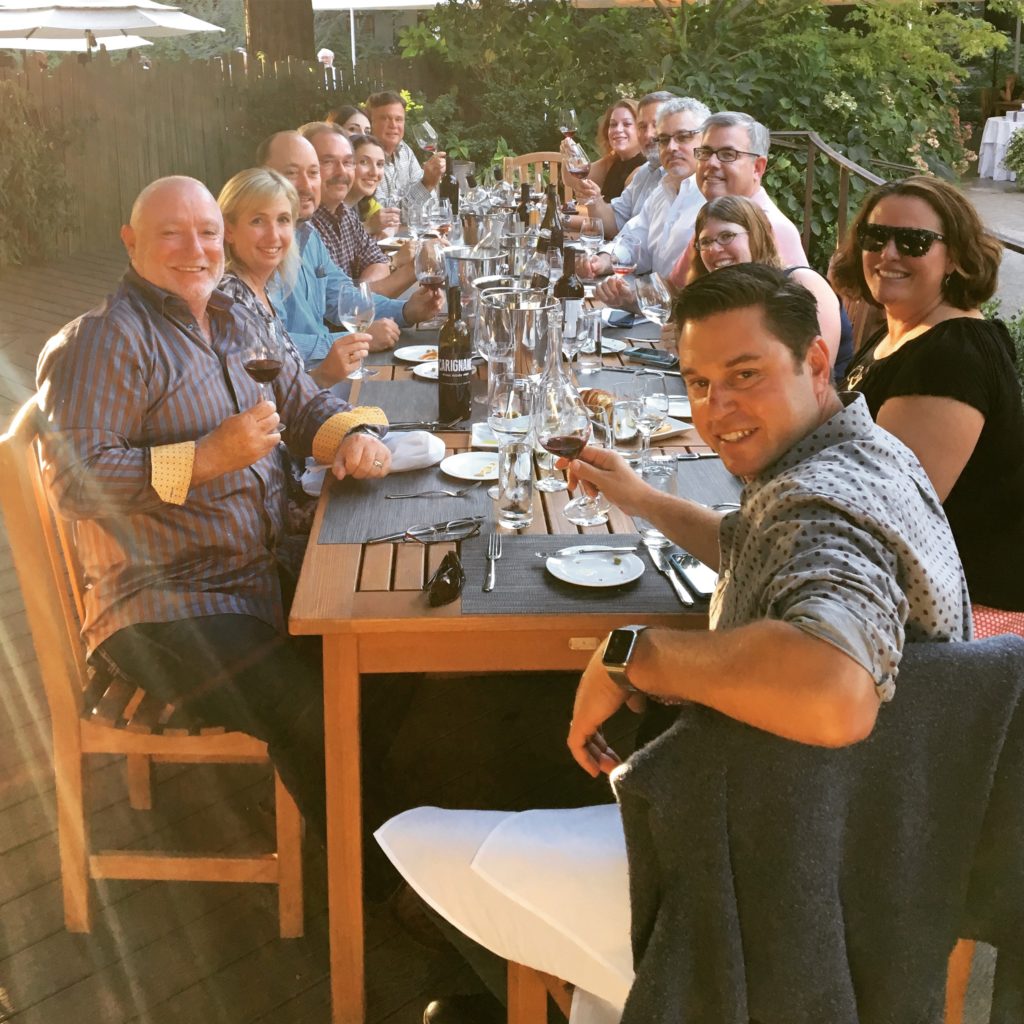 In September I and five other Wine Writers and  Bloggers were very fortunate to be invited to discover the wonders of Lodi Wine Country by the great people at Snooth Media and Lodi Winegrape Commission. I was very excited to be invited, but did not quite know what to expect.  I dearly love the wine country of Napa and Sonoma and visit often for my "wine fix". And while I enjoy a Lodi 7-Deadly Zin as much as the next wine aficionado I wasn't quite sure what to expect.
But what did Lodi Wine Country have to offer?  
I was very open minded. Primarily because I had already made a conscious decision to expand my California wine horizons in 2017 beyond Napa and Sonoma Valleys. And Lodi and Paso Robles Appellations were on top of my list of places to explore, visit, and taste. So when Claudia Angelillo, Brand Director of Snooth Media called, I jumped on a plane and started my adventure!
After landing in Sacramento Airport, we were picked up by Claudia in a big white passenger van that would be our transportation for he next 4 days. After about an hour drive we arrived in Lodi. We checked in at the Wine and Roses Hotel in Lodi and I have to tell you it was incredibly beautiful. The hotel was tucked in the back of the same property as the Lodi Winegrape Commission and Visitor Center. I was VERY impressed immediately with the stunning grounds of the hotel. You are surrounded by very relaxing and lush landscaping of mature trees, tropical plants, and beautiful flowers everywhere you turn. Exotic birds were in big cages throughout the property, and they just added a sense of adventure to our setting. They offer an award winning spa, pool, restaurant on site, and would be perfect for a romantic getaway or honeymoon! The rooms were very clean, beds were extremely comfortable, and the décor of the rooms (which included a fireplace) were very wine country pleasant. I will take my lovely bride back to Lodi and we will definitely stay at this hotel for a romantic weekend soon.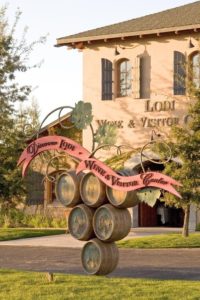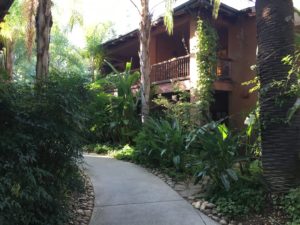 The next morning after a great breakfast with the other writers we were loaded in the van and off to the vineyards! Randy Caparoso was our guide for the week, and he was a wealth of information about the incredible history of the Lodi Appellation. Randy seemed to have a great story about the history of Lodi and the winegrape growers at every turn. I am personally a huge history fanatic, so I was very pleased he was so versed in the vast and important history of Lodi to the wine industry of California.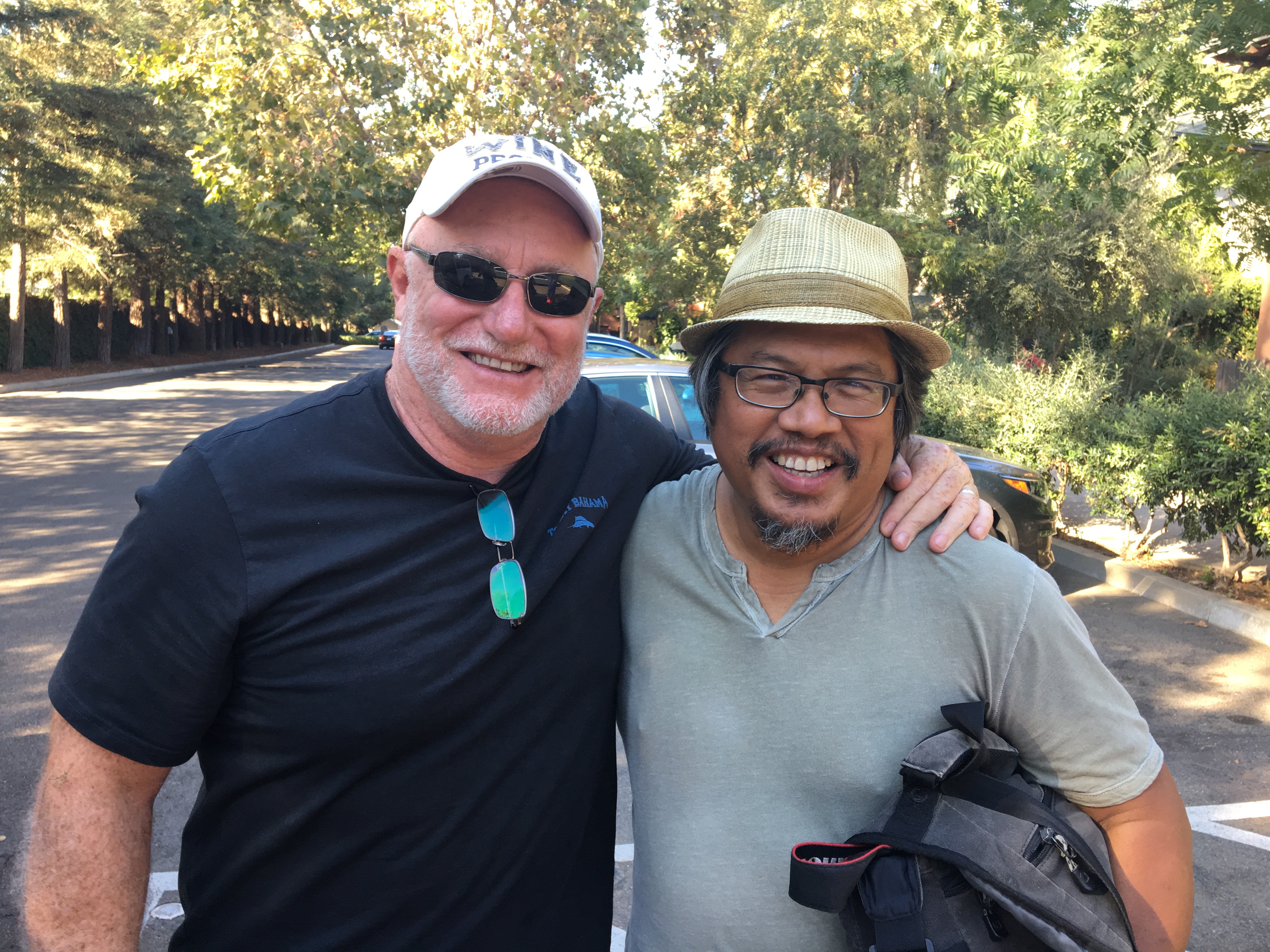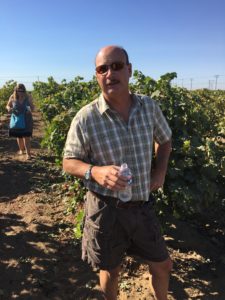 Within a short drive we were popping corks in Marian's Vineyard at the Mohr Fry Ranch at 8:45 AM (Yah… I know. It is a tough life I have sometimes). We met wine grower Bruce Fry of St. Amant Winery. We were drinking wines from the vineyards that the wines came from, from the Winemaker that produced the wines. Soon after we were back in the van and down the road to Soucie Vineyards with Kevin Soucie, a 5th Generation Farmer. Winemaker Layne Montgomery of M2 Wines shared his wines from the vineyard. Soon after we were back in the van and down the road to Wegat Vineyard. There under a giant shade tree we met Winegrape Grower Todd Maley, Winemakers Chad Johnson,  Layne Montgomery and Tim Holdener. We enjoyed their wines as the cut up with each other, and each told the stories of the grapes, the terroir, and their wines. Added bonus: when you are in the middle of a vineyard popping corks and enjoying incredible wines you don't need a spit can. You simply spit it out on the ground! And yes, I was spitting at 9 AM in the morning. Mandatory procedure considering we tasted over 200 wines in 4 days time!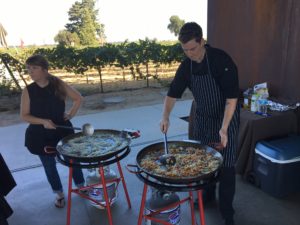 After a tasty lunch of paella cooked at the winery at M2 Wines, the Winemakers were excited to explain the virtues of the Lodi Native Project. I was HIGHLY impressed with the exciting project by these young and passionate winemakers! Check back here soon for more on this incredible project at a later date, but for more information now click here.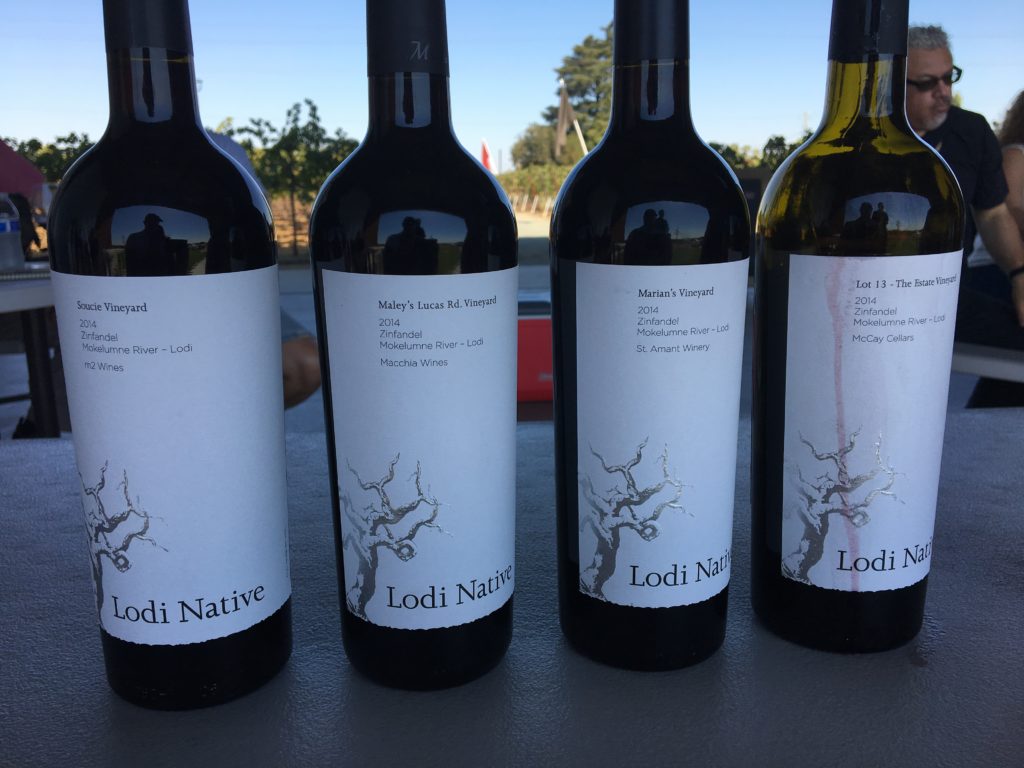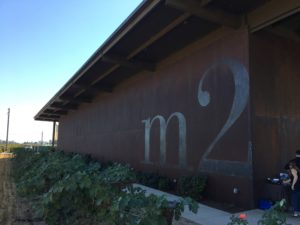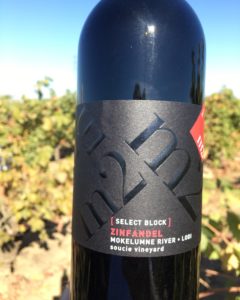 The rest of the week was somewhat similar to this first morning. Yes we were in different vineyards and wineries the next several days. And yes we were listening to different Winemakers and Winegrape Growers as they graciously shared their own wines. But the theme was almost identical. Everyone shared the same passion and pride for Lodi. The also shared the desire for the rest of the wine world to know how special Lodi is, and how important Lodi has been in the growth of the California wine industry.
They told the history of the vineyards and  the Lodi terroir. They shared fascinating stories of the generations of families that worked the soil, producing some of the best wine grapes in California. And then they passed the vineyard down to their children. And then those children did the same and handed the vineyards down to their children, and so on.
This was the theme we heard all week from everyone we visited.
The often 5th generation Winegrowers and Winemakers understood the truly special place Lodi, California is, and they want the rest of the world to know this as well.

Well, kind of…
I say "kind of" because I felt an underlying current the entire week: While they want the world to understand how special Lodi is overall, and how important Lodi has been to the California wine industry. While they want the world to appreciate and give credit to the wines that were produced in and from the grapes of Lodi Appellation. While they want more tourists to visit Lodi so they too can understand what their parents, grandparents, and often great grandparents discovered generations ago.  They do NOT want to become Napa Valley.
The leaders of Lodi Wine are grappling with consistent push and pull : How to grow and spread the word that "this is a very special place" and "please visit, taste, and tour Lodi", yet the city fathers, and the Lodi Winegrape Commission are very adamant that they not grow too fast and lose their soul. Example: They have very strict controls against restaurants in the wineries. They can cater food in, but they cannot build a restaurant on site. This holds wineries back. Even more restrictions of when a winery can be built and the zoning. From my short understanding from visiting with the good wine people of Lodi; The restrictions on the growth, often self imposed by their own commissions, seemed stringent at best. But that absolutely is by design.
"We don't want to be the next Napa Valley"
I was confused and bewildered at first when they mentioned over and over that they did not want to be Napa. After all, look how stunning and beautiful Napa wineries are, and how some of the best Cabernet Sauvignon and Chardonnay in the world is produced in Napa Valley!
But after speaking to the real Lodi wine people that grew up a 4th and 5th generation Winegrape grower. Then seeing how many families began producing their own wines after other regions were winning gold metals and 90+ scores from their grapes, you start to get it.
I live in Texas, and you grow up with a very strong pride of your state. It reminds me very much with the fine people of Lodi Wine Country. They love where they live, and have a strong sense of being. Of where and what they came from, and where they are going in the near future. They want to control of what Lodi Wine Country will look like in the coming decades.
After all you have to admit Napa Valley has become very corporate. It has lost a part of its  soul that was so evident from the 1970's and 1980's when it was in its heyday of young and aggressive winemakers that were the pioneers of what it is today. And Napa can be quite ostentatious! Unless you are well off the beaten path of the Silverado Trail, you will almost never taste wines from the actual family that farmed the land, harvested the grapes, and produced the wines they are pouring.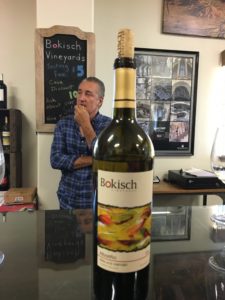 This is not the case in Lodi Wine Country. If you visit Bokish Vineyards to taste some of the best Spanish Varietal wines in California you are likely to run into and visit with Markus or Liz Bokisch. When you visit McCay Cellars you are likely to see Michael McCay and he will share his passion for Zinfandel and Rhone varietals. And this happens any winery you visit in Lodi. This just so rarely happens in Napa Valley because they owners are likely a huge conglomerate of wineries ran by a Board of Directors!
LoCa The Wines Of Lodi, Ca!

So what makes Lodi wines so special?
Number one is the incredible passion of the Lodi Winegrape Growers and talented young Winemakers. The people are warm and inviting and are genuinely  glad you are here. But second, and just as important is the Lodi Terroir.
So what is "terroir"?  (terˈwär/)
Terroir is a French noun that describes the complete natural environment in which a particular wine is produced, including factors such as the soil, topography, and climate.  The characteristic taste and flavor imparted to a wine by the environment in which it is produced.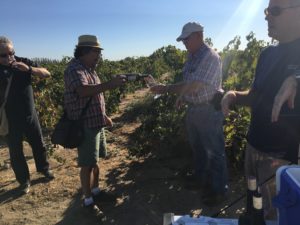 Lodi Appellation has a Mediterranean climate that will have warm to hot days, and cool evenings. Lodi is situated about 100 miles East of the San Francisco Bay and on the edge of the San Joaquin/Sacramento River Delta. This provides cool breezes and chills the grapes down at night. Warm days allow the winemaker to produce a full flavored complex wine, and the cool nights provide natural acidity. This is a winning combination for any winemaker.
Combine the near perfect climate for wine grapes with the diverse soils formed thousands of years ago through geological events and alluvial waters rich in granitic-based minerals, and you can see why the wines of Lodi are winning gold medals and 90's scores from the wine magazines around the world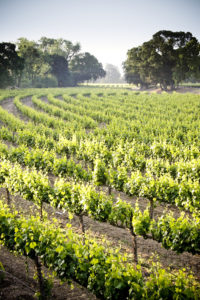 So visit Lodi.
Visit soon and discover the incredible award winning wines that are a true bargain. Discover the warm and friendly people. And discover the beautiful but very unpretentious wineries.
But don't come looking for Napa.

This is Lodi Wine Country!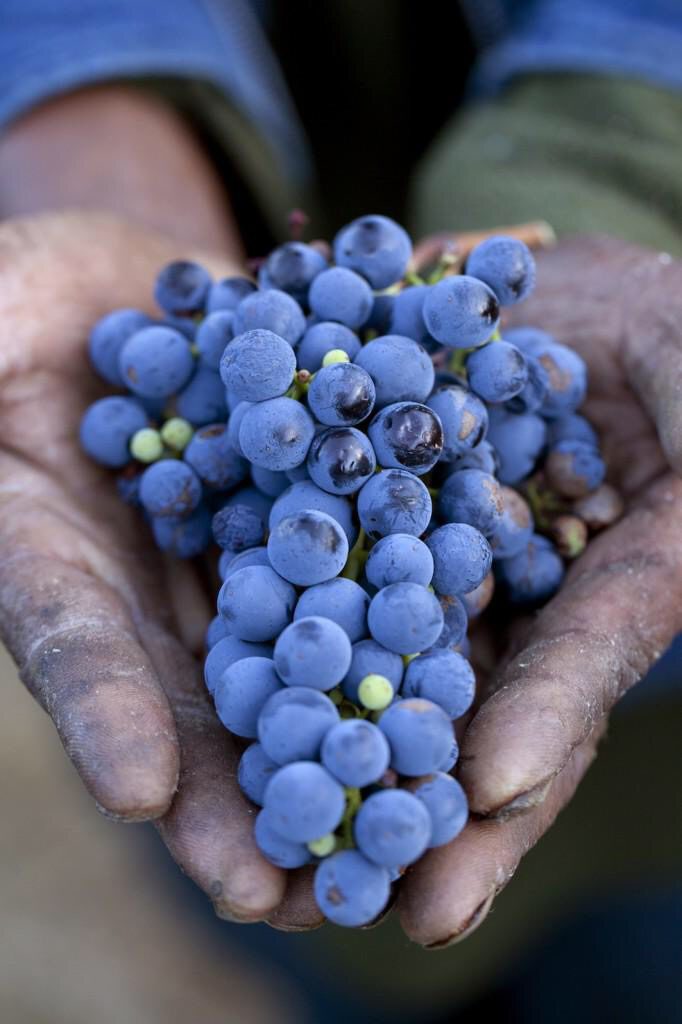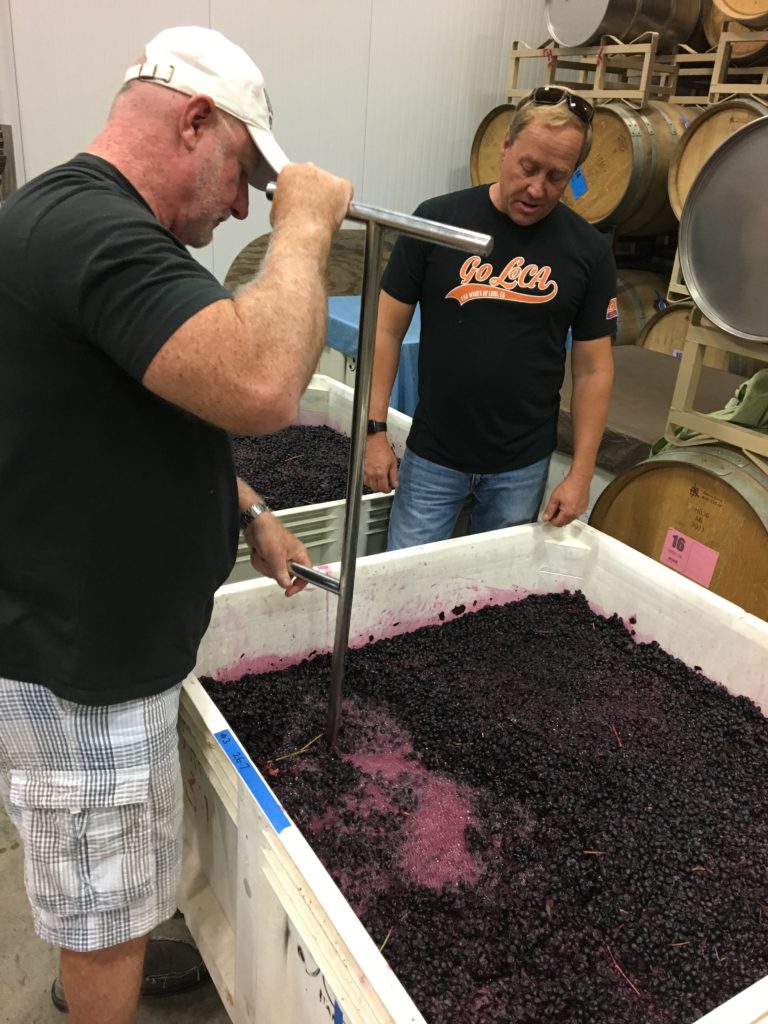 Thank you for reading and sharing my experiences in Lodi. Check back soon for the follow up on the exciting Lodi Native Project.
 And please…Leave a comment below. Wine is for sharing. And not just the wine itself. I love hearing of your own travels and adventures and the great bottles you have discovered!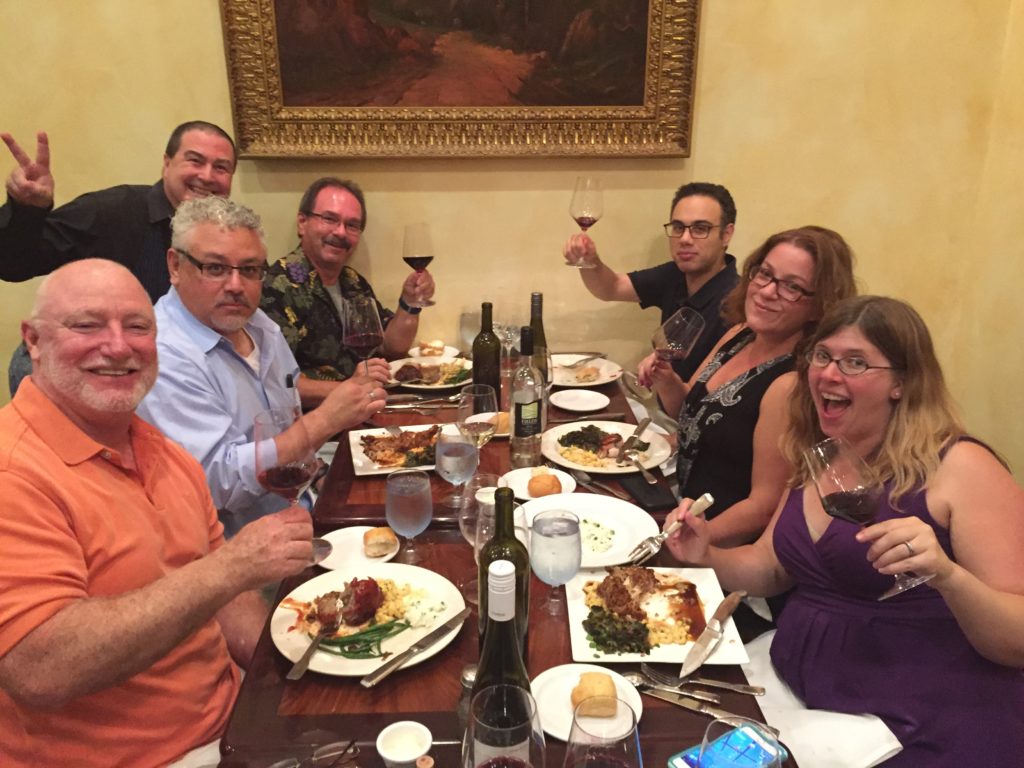 The lovely Kayla enjoying Harney Lane wines with Kyle Lerner

Old Vine Zinfandell at Wegat Vineyard, Lodi

Oak Farms Vineyard, this is a a must visit in Lodi Wine Country!

Oak Farm Vineyard Favorites!

2015 Acquiesce Viognier, Stunning wine and possibly my favorite!

Macchia Volupous Old Vine Zinfandel Maley Vineyard

Lodi Wine Country Vineyards. GO LoCa!

Terry Hill is the Texas Wineaux!