Savour South Australia Wines: Old Vines, Classic Wines, Family Lines made it's way through Dallas, Texas this last week. I was luck enough to be invited to attend the Seminar in Downtown Dallas located at Café Momentum.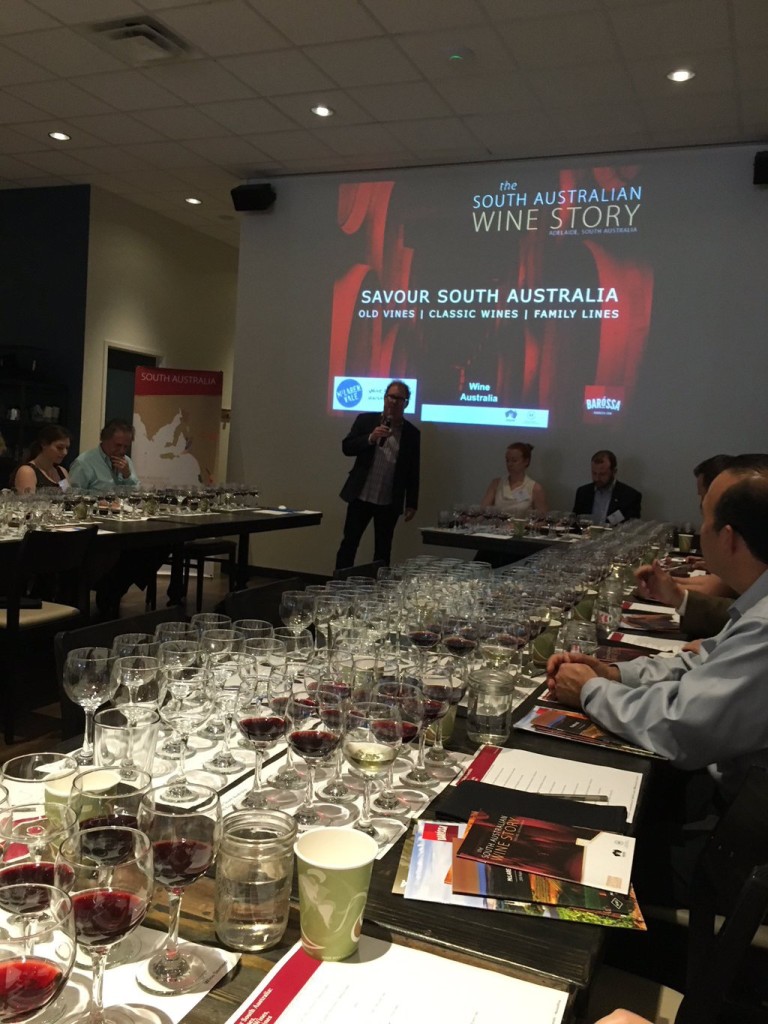 About the time I think I actually know a lot about wine, I quickly realize there is an immense amount of information about the wonders of wine and the production of grapes that I have yet to learn. This is why I have such a passion for the grape;  just as many of you reading this now do as well. It is a never ending journey discovery and love for this thing called wine.  So when I get invited, I feel very fortunate to get to attend these types of seminars. I always learn so much, and is very humbling at the same time, and I start my journey of discovery all over again.
Savour South Australia Wines Seminar was no exception!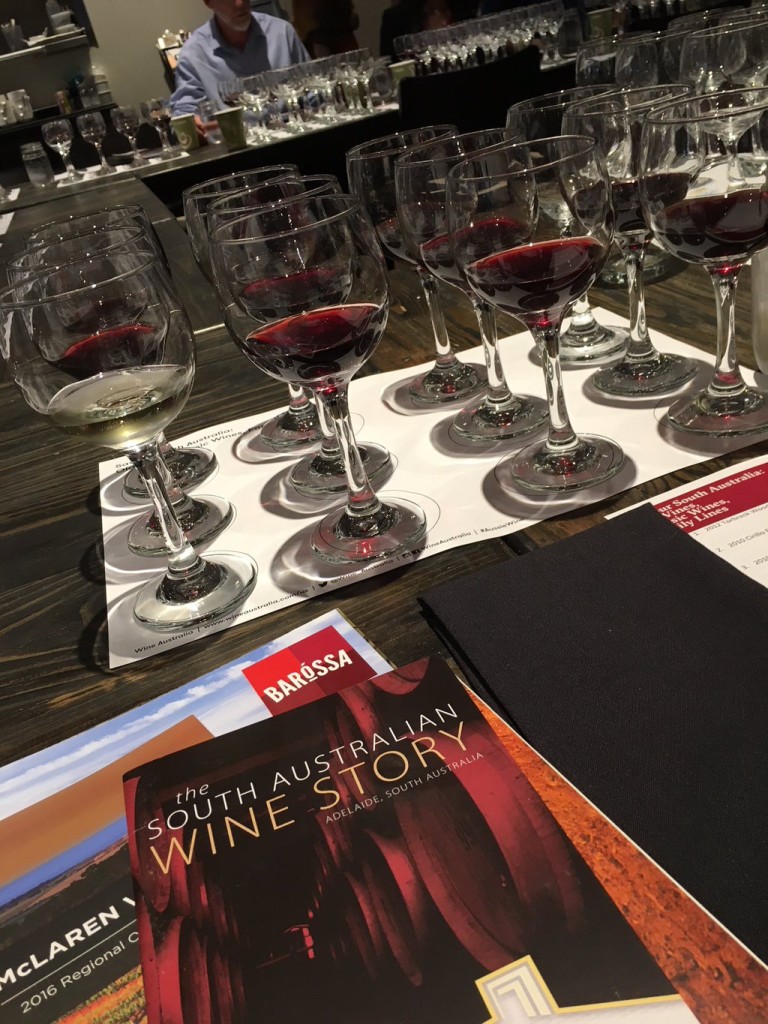 Australia's wine story is long and storied.  The South Australian wine story is even more exciting and historic.
I discovered some of the oldest living grape vines in the world are in Australia!
The Barossa and McLaren Vale Regions of South Australia are the only one of the world-famous viticultural area in the world NOT to have been ravaged by Phylloxera. Therefore it remains home to some of the oldest continually producing vineyards in the world.
The first Colony  was founded in 1836 in Australia, with McLaren Vale area founded by John McLaren 2 years afterward. The first grape vines were planted at this time in 1838 by John Reynell and Thomas Hardy. Soon the Seaview Winery and Hardy Winery were in operation by 1850!
The Barossa was settled in 1842 with some of the first European Settlers. First came the British as farmers and landowners, and then the Lutheran German speaking Silesian farmers and craftsmen, who brought also brought in the grapevines to the Barossa, and the rest is history!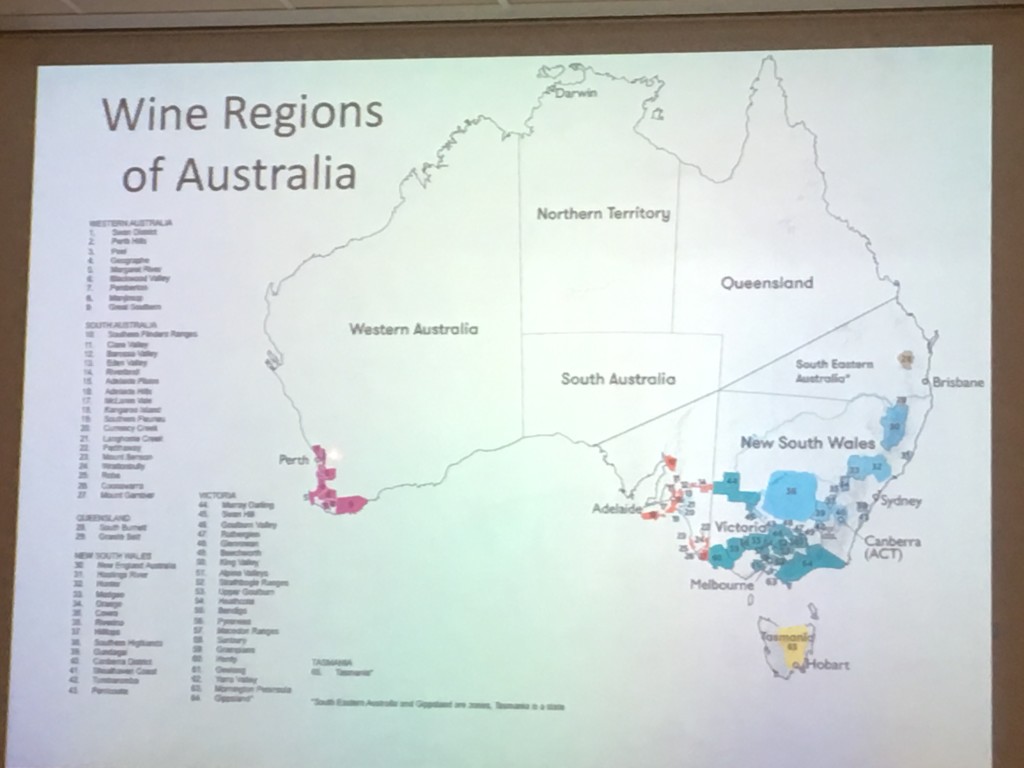 The State of South Australia is one of 6 total and 2 Territories. To get an idea of the size, the State of South Australia is 1.4% bigger than the size of the State of Texas. With a population however of only 1.3 million, or about the population of Dallas, Texas alone. Most of these residents live in the City of Adelaide.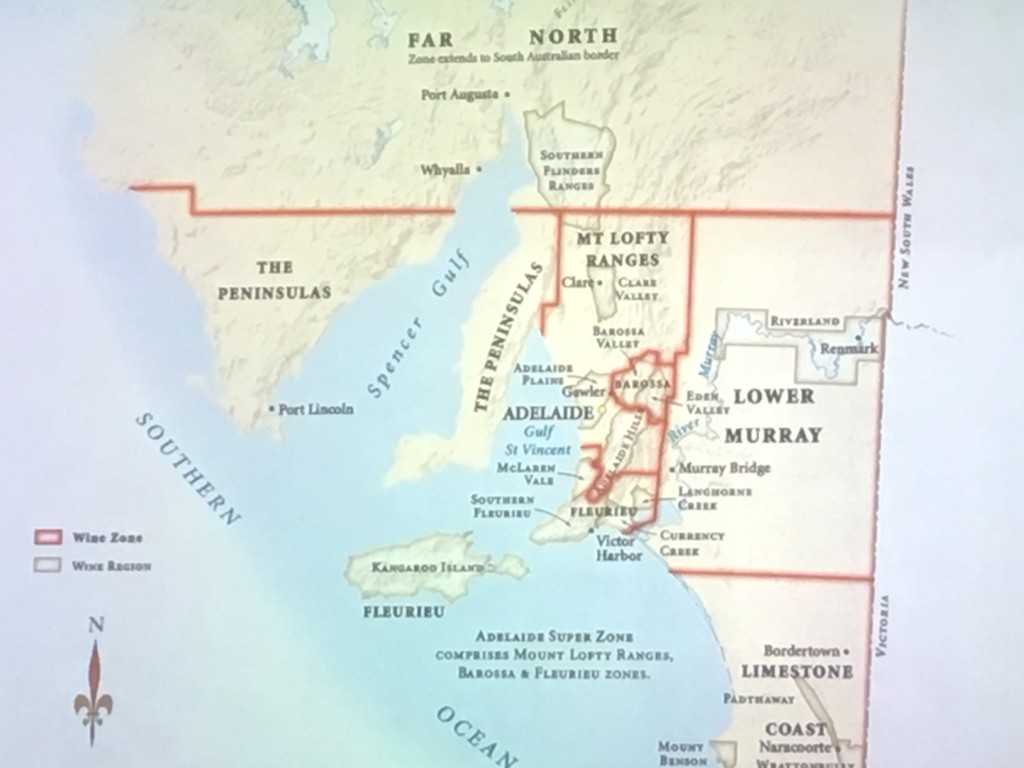 The cool winds blow from West to East across South Australia coming from the Antarctica, so even though the summer temperatures can be very warm, the cool winds are ideal for cooling the grapes at night and keeping humidity from being much of an issue in viticulture. Cool wet winters and warm, dry summers are ideal for grape growing.
Temperatures are only slightly warmer than that of the Bordeaux region of France in the Barossa Valley. The makes for lush wines more similar to the Napa Valley in California. Riesling, Semillon, Chardonnay are the favored white wines for Barossa, but you will also find Sauvignon Blanc and Viognier. Grenache, Cabernet Sauvignon, Shiraz (Syrah), and Mataro (Mourvedre) are king here. In fact some of the oldest Grenache vines in the world are still thriving today, dating back to 1848, and 1843 for gnarly old Shiraz grapevines!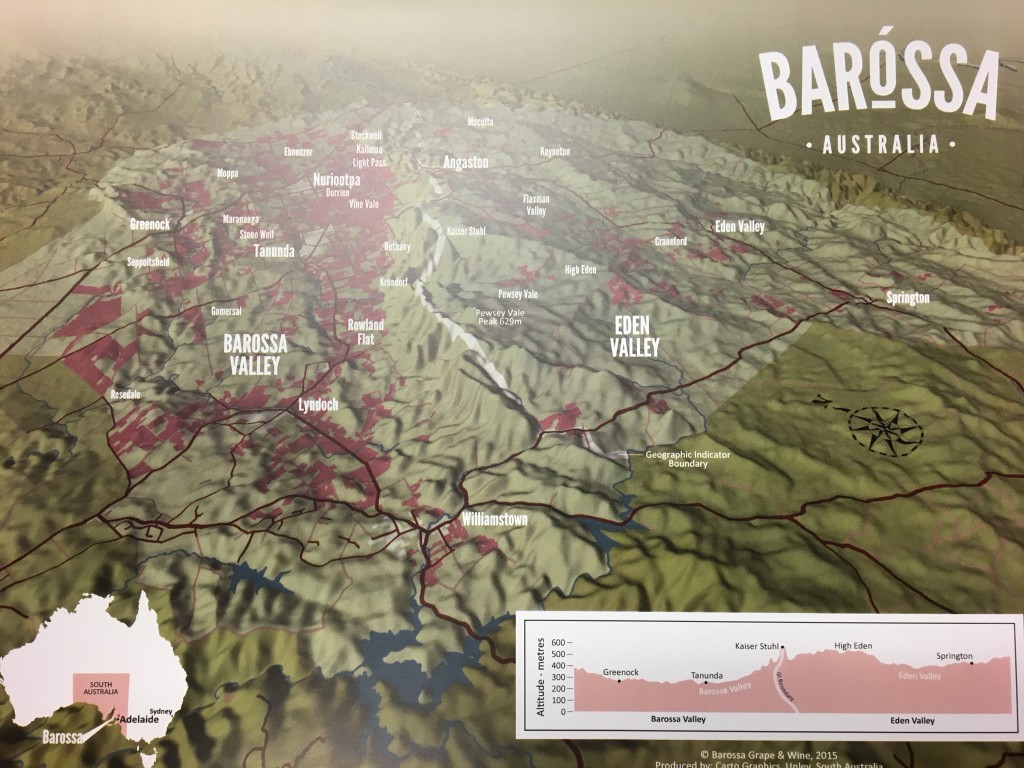 The Eden Valley depends on the higher altitude and the slope of the hills, as well as the more shallow and rocky soils to produce more acidic wines such as world class Riesling!
McLaren Vale is located about 40 minutes south of the capitol of South Australia, Adelaide. The climate is Mediterranean and characterized by warm summers, moderate winters dominated by rainfall, low relative humidity, and relatively high evaporation. The climate can be very diverse between the Gulf of St Vincent to the south and Mt. Lofty to the north. This climatic diversity helped producers embrace Spanish and Italian varieties such as Barbera, Fiano, Tempranillo, Mouvedre, and Moscato, as well as re-emerging varieties such as Viognier, Sangiovese, Zinfandel, and Verdelho. Having said that the Key Varieties are Cabernet Sauvignon, Grenache, and the crown jewel of McLaren Vale; Shiraz!
We tasted through the 12 wines listed below, and each were very different, yet very reminiscent of the "Aussie Styles" that I have been familiar with from top quality wines I have been accustomed too in the past.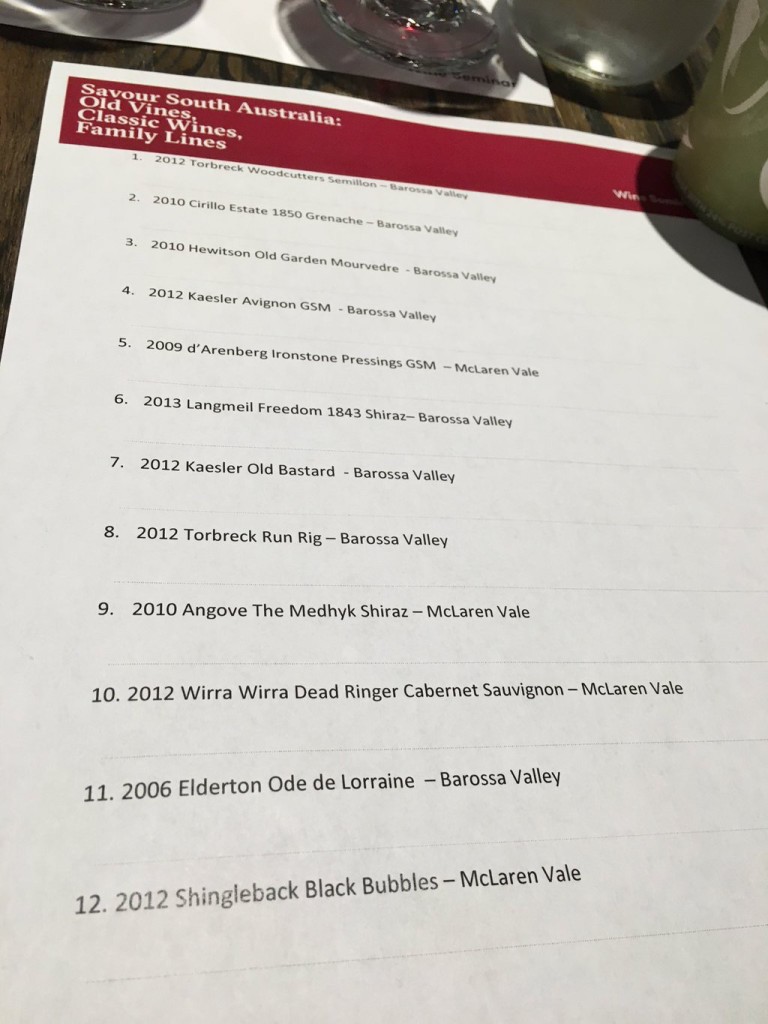 The intense Grenache, Mouvedre, and GSM (Grenache, Shiraz, Mouvedre) can be very tannic when young, but the aging potential is outstanding. The young wines tend to be full bodied, lush ripe & rich dark fruits, chocolate, licorice, and complex. The Aged Wines lend more to mocha, earthy, prune, savory meats, cigar box.
The 2010 Cirillo Estate 1850 Grenache was produced from Grenache vines dating back to 1850. Bright Cherry, intense and seductive palate.
My favorites were the Shiraz's (6-9 on list above). The Dark fruits such as blackberry, blackcurrant, and plum dominate with floral qualities, and long finishes. Aging potential should be outstanding. I would love to taste through these Shiraz again in 20 years just to see how it has evolved.
My absolute favorite was the 2010 Angove The Medhyk Shiraz. The fruit was hand-picked with only the best, then hand selected with only the best barrels to insure the absolute best the winery can offer! This is a wine I will be looking to add to my collection.
Another favorite of the day was the 2006 Elderton Ode de Lorraine Barossa Valley. This is a blend of 54% Cabernet Sauvignon, 34% Shiraz, and 12% Merlot. This was a very lush wine with black and red fruits, current, vanilla, and fresh leather. Still plenty of tannin structure remaining  after 10 years in bottle, really shows how well this wine was structured. I will be looking for this bottle as well!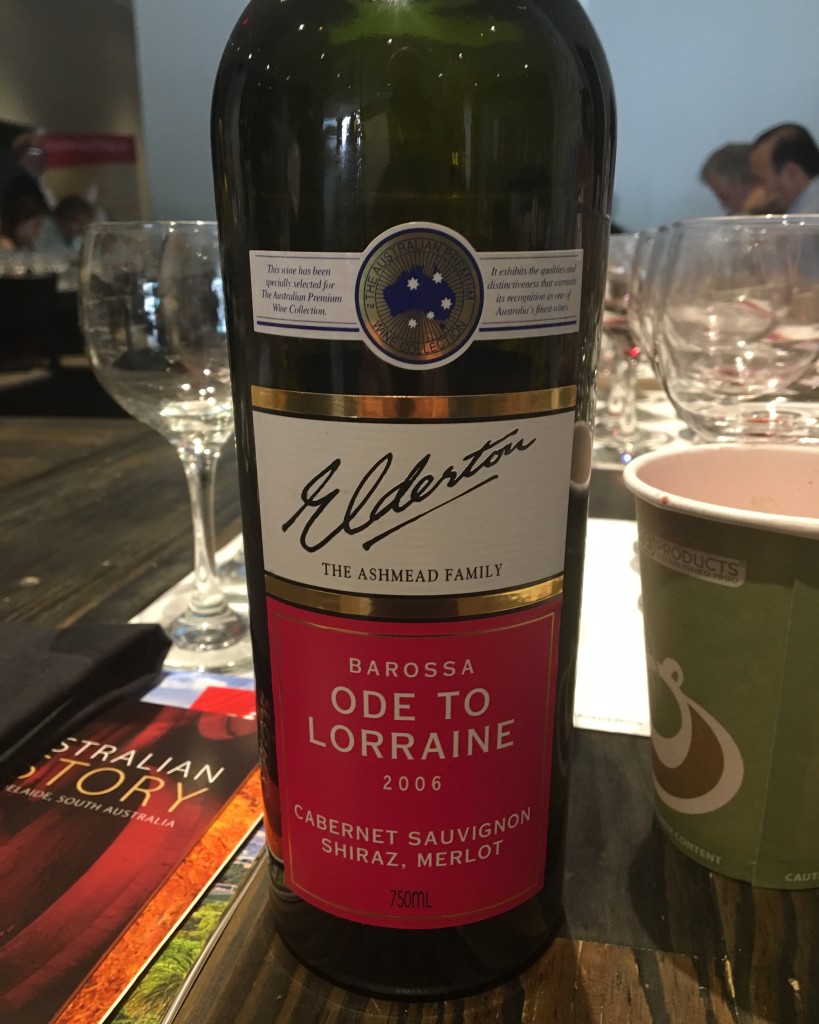 Most unusual wine of the year for me? The 2012 Shingleback Black Bubbles McLaren Vale! This is a SPARKLING SHIRAZ made in the "Methode Traditionelle" of the Champagne Region of France with the secondary fermentation in-bottle! Yes you read right… A sparkling red wine! I understand in McLaren Vale Region it is traditional to open a sparkling shiraz at Christmas Dinner. I was amazed and cannot wait to find more here in Texas. The body of a red wine with the cleansing palate of a sparkling wine would be perfect for a spicy Chinese dish including Peking Duck.
As I said I learned so much, and I got to spend time with my Dallas Wineauxs Wine Group I started a few years ago, so a fun time was had by all.
I have gotten a new-found respect and admiration for the Wines of South Australia!
So next time you are out looking for a terrific high quality wine remember the Wines of South Australia!
Thank you for reading my ramblings and thoughts. Please leave a comment of any kind, I would love to hear your thoughts, ideas, or anything relating to the Wines of South Australia and any other article included.
Terry Hill is the Texas Wineaux!