A bucket list (for those who have lived in a cave for the last 20 years) is a list of things that you want to do or accomplish before you "Kick the Bucket". While everyone has their own persoanl list, I offer my suggestions for my own personal bucket list… travel to Tuscany, Italy!
Ok, it seems like everyone has a bucket list these days. In fact a really funny movie by the name The Bucket List with Jack Nicholson and Morgan Freeman was a huge hit a few years back. Most of us never actually write them down on paper, let alone work towards them. But I do believe most of us have a kind of working bucket list in our head that changes from time to time. They will change from time to time because life can (if you let it) really beat you down!
We all start out in life thinking life is going to be such a kick-ass time with everything playing out like it does on TV, or the way we play it out in our mind when we are young and naive.
You know what I mean;

We get out of college with a new BMW, a great Executive job, buy a big house, raise perfect kids that become doctors, and vacation in the Hamptons…

Right?
God blessed you if that is your life! But "real life" is full of challenges that we constantly have to contend with such as; down-turns in the economy, health problems, divorces, and job changes, teenagers, etc… And these challenges, and how we respond to them, build who we are as a person and what kind of character we have.
So, let's get back to the bucket list and what that means to me personally at this time in my life. I say this "time in my life" because I would have had a substantially different bucket list in my twenties than what I will have now in my mid-50s.
Top of my bucket list: I love to travel.
I have always loved to travel, even when I was a kid. I couldn't wait for Dad to load us up in the family sedan and drive us to some distant place that I had never visited before. Luckily my beautiful wife Margie and I do take a lot of small-medium size trips several times a year. But after marking off a huge part of my bucket list by not only visiting Paris, but my lovely bride and I were actually married in Normandy, France. And we returned to France in 2009 for 2-weeks of incredible wine tasting throughout; Loire, Chablis, Cote D Beaune, Alsace, and Champagne. (Check out previous articles for more details from those trips).
So… "where next" you say?
Italy

Tuscany for my Bucket List!

Top of my Bucket List: Rent a villa in Tuscany for 2 weeks with close friends. Then use the house near the center of Italy as a base where we make short 1-2 day trips to different areas of interest in Italy that I dream about.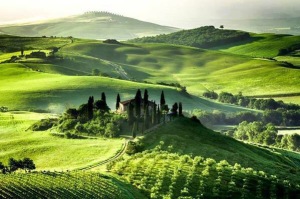 Florence is at the top of my list because of The David and the other incredible works of art at the Uffizi Gallery housing the famous masterpieces from Leonardo da Vinci, Giotto, Botticelli and Michelangelo!
Then? Days of touring the beautiful vineyards and wine tasting throughout Tuscany of course! The wine regions of Bolgheri (Antinori), Brunello di Montalcino (Argiano!), Chianti, and Chianti Classico for all the Super Tuscans! Some of the most incredible food friendly and world class wines in the world come from Tuscany. My good freind Michelle Williams actually just came back from touring the wine country in Italy. Check out her great blog at www.rockinredblog.com
On days when we are tired and simply want to relax (it is vacation after all), we head down to the local panetteria for fresh bread, macelleria for fresh meats and deli, and cook at the house. Of course we will enjoy the terrific wines we have picked while tasting throughout the region on the patio overlooking the vineyards of Tuscany! Those relaxing days at the house, and getting to know the locals, sound as great as the sights of Italy to me!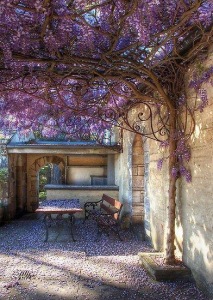 Then back on the road again with a day trip to Naples for "pizza vera napoletana," true Neapolitan pizza. We are blessed to have a authentic Italian pizzia restaurant in our town of Frisco by the name of Pizzeria Testa that is serious about making real Neapolitan Pizza from a 7000 lb brick oven imported from Napoli, Italy. The chef Michele (pronounced Mi-kay-lah) D'Amelio was brought in from Italy, and has won two international competitions for pizza-making. So enjoying authentic pizza from Napoli, Italy and washing it down with a terrific Super Tuscan  direct from terra firma really excites me!
Then off to the Amalfi Coast including Capri, and Positano for the beautiful Italian Coast, people watching and of course; Lemoncello!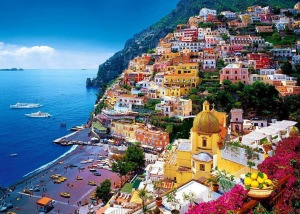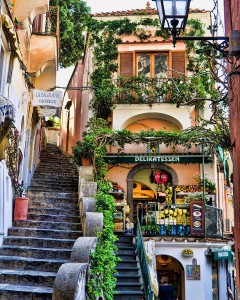 And a Tours of ancient Pompeii is a once in a lifetime opportunity. Pompeii, stopped in its tracks by the eruption of Mount Vesuvius in A.D. 79, offers the best look anywhere at what life in Rome must have been like 2,000 years ago. An entire city of well-preserved ruins will be ours to explore. Once a thriving commercial port of 20,000, Pompeii grew from Greek and Etruscan roots to become an important Roman city. Then Pompeii was buried under 30 feet of hot mud and volcanic ash.
An overnight trip to Venice is a must for anyone's bucket list! You just have to experience Venice at night to truly get how romantic it can be! And yes I know… it can be dirty, crowded, and expensive. But this is one of the most unique, romantic, and historic cities in the history of the world. How can you not take a gondola ride with your sweetheart, and get lost in the back streets of Venice?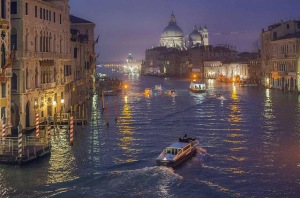 Rome should be a 2 day trip minimum as well. History buff or no, it's impossible not to marvel at a structure like the Colosseum, or stand in awe on the cobblestones of the Roman Forum and think about who walked there before you. Plus the incredible restaurants in Rome are outstanding. A must for my bucket list would have to be a fabulous dinner at l'Archeologia Cucina for fabulous Amatriciana Pecorino Ravioli or Beef Carpaccio!
The adventure of traveling to a distant land and immersing ourselves in the local cuisine, terrific wines, and the interesting locals of the land is something Margie and I really love.
When you dream about it, talk about it, and then put it down on paper as on a Bucket List; it is amazing how somehow it becomes reality. And the next thing you know…you are getting on a plane for an adventure!
Thank you once again for taking the time to read the rambling of a Texas Wineaux! Check back from time to time to see how my Bucket List is progressing as well as sharing my other dreams I have on my own personal list. I would love your thoughts so please leave your comments, suggestions you may have, or even stories of your own travels that you would like to share in the comments section.
Terry Hill
Texas Wineaux