"Water separates the people of the world; wine unites them."
I love wine. I also love wine people!
I have penned a name for these wine  affectionados, connoisseurs, sommeliers, or simply the average guy or gal that really appreciates a good bottle of wine;
"WINEAUXS"
Well I met a really nice and fascinating Italian Wineaux at a really cool wine bar in Dallas called Brian's Wine & More. Brian's place is a true "old school neighborhood wine store" and next door to the wine bar down on Monticello Ave. If you are ever in the area, I would highly suggest a stop in and say hello to Brian and his staff, and enjoy a glass or two of great vino!
When I was in Brian's enjoying a great glass of Pinot Gris, I met Piero Pagliardini, a native of Sant'Angelo in Vado, Marche. Now I know what you are thinking; "Where the heck is Marche in Italy?" Well I ask him the same thing, and evidently he gets asked this same question all the time. Le Marche (pronounced lay markay) is in central Italy, bordered by Emilia-Romagna (think cheese), Tuscany to the Northwest, and Umbria to the West With the entire eastern boundary being the Adriatic Ocean. Piero finally got tired of explaining where Marche is, so be began telling everyone he was from "East Tuscany" as a joke. Ha!
While everyone knows about the rich history of Tuscany and to an extent Umbria, few know how terrific the lands of Marche truly is. Piero loves his homeland, and still has many connections for wine, food, and tours. So after meeting and marring a Dallas, Texas native in his homeland of Le Marche, he moved to Dallas with his his lovely bride Katherine Cohen and began working with producers, importers, and distributors reprenting some of the incredible wines of his homeland right here in Big D.
A few years ago he began personally arranging Food and Wine Tours, led by Piero himself, to visit his favorite vineyards in the most unexpected parts of Italy, Tuscany and Marche!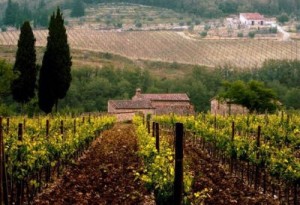 The tour through Tuscany and Marche begins on October 12, 2014 and ends on October 23rd. And there is only about 18 on the tour, so you will be assured a tremendous amount of personal attention, not to mention the lifetime of friendships that you will build with the incredible Wineauxs during the two weeks in paradise!
You fly into Rome, and the fun begins with a welcome wine dinner where you will meet all of your new friends.  Next morning you are on a luxury bus to the infamous Montepulciano, where you will enjoy a Music, Art and Vino Nobile tour, and visit 600 year old wine cellars! It only gets better from there…
Here is a link to the complete itinerary:
www.vitaverdeimports.com/the-wine-tour/new-wine-country-detailed
If you have ever considered taking a Food and Wine tour in Europe, I HIGHLY suggest you check out the itinerary of this incredible journey of wine and food!
2 weeks in Tuscany and La Marche with incredible Italian wines and Italian foods?
WOW what an incredible trip! How could this get better right? Piero and I hit it off and became quick freinds (as so easy to do over a glass of wine). I have convinced him that this incredible adventure would be PERFECT for my Texas Wineaux followers. He resoundingly agreed. So…
I have arranged a DISCOUNT for my followers of $100 per person or $250 per couple simply by providing the PROMO CODE: "Wineaux"
If you want to learn more, call Piero himself at  972-400-8329. Or go to his website vitaverdeimports.com
I unfortunately have another trip planed that month so I will not be able to join you this year, but I assure you NEXT YEAR I will be one of the 1st to sign up!
The only thing I ask if you decide to join Piero in this food and wine journey, is you will send me pictures to friscokid8758@yahoo.com or Twitter to @friscokid49 
Buon viaggio e bere un sacco di vini Italiano!