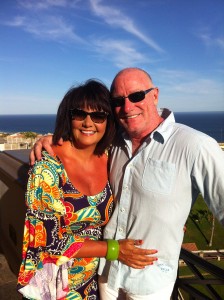 Terry is a 55 year old very happily married man with two grown sons and a grown daughter living in the suburbs of Dallas, Texas. I love my wife, kids, WINE, traveling, Harley-Davidson motorcycles, cars, cooking, and entertaining with our freinds and family.
I am an unabashed Francophile having been married in Normandy France, and since then traveled and tasted extensivly through the wine regions of Chablis, Loire, Burgundy, Alsace, and Champagne.
A native Texan, I have a natural love and pride for my Texas that is instilled at birth. The incredible wines that are coming from Texas is increasing every year as some of the most creative winemakers in the world are producing wines here.  If you haven't toured and tasted in the Texas Wine Country you just haven't lived! #TXWine
I love visting wine regions throughout the US, and have tasted in Texas Hill Country, Ohio, Michigan, Arkansas, and of course throughout Anderson Valley, Paso Robles, Napa Valley and Sonoma County, California. In fact; I would argue some of the best Pinot Noir in the world is produced in Russian River Valley, Sonoma!
I currently have about 17-200 bottles of wine including Chateau Lafite-Rothchild, Haut-Brion, Cos d'Estournel, Pichon-Longueville Baron, Chablis, Chateauneuf du Pape's, Barolo, and extensive collection of Russian River Pinot Noir and Chardonnay. I also have a few Cult Cabs such as 2004 Harlan Estates that I take out every once in a while and carress, then return to their slumber until the day I decide to pop the cork.
If you would like me to review your wines, or visit and review your vineyards or winery please contact me. I am always looking for great new wines and sharing my experiences with the finest people on the earth; Wineauxs!
"I love my prize bottles, but nothing makes me sing like a canary like when I find a $20 bottle that drinks like a $75 bottle of wine!"